Danny Ramadan & Pajtim Statovci: The Resilience of Queer Love
Mon 29 Aug 13:00 - 14:00
Baillie Gifford Sculpture Court
Watch online
Pay what you can to watch online. Available live, then on-demand until 23:59 on Friday 30 September.
Attend in person
Baillie Gifford Sculpture Court
£14.00 [£12.00]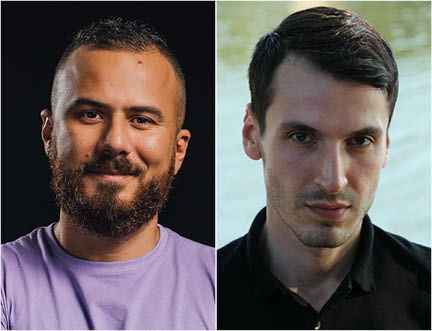 Can relationships last against the backdrop of war? Danny Ramadan's The Foghorn Echoes shows us the forbidden love of two boys in war-torn Syria. Pajtim Statovci's Bolla takes us to 90s Kosovo, where a newly married Arsim falls in love with a Serbian man. Today, they discuss their tender and powerful books with Andrew McMillan and ask how we can truly discover ourselves when around us there is nothing but destruction.
Categories: Fiction, Gender/Sexuality, LGBTQI+, War/Terrorism, World Voices
---