Dhonielle Clayton, Tiffany D Jackson, Nic Stone, Angie Thomas, Ashley Woodfolk & Nicola Yoon: Blackout
Age 14+
Mon 16 Aug 19:00 - 20:00
Baillie Gifford Theatre (in West Court)
Watch online
Sorry, this event is no longer available to watch.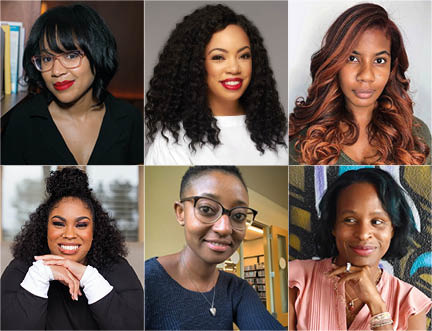 Come along to hear from Belles author Dhonielle Clayton; the New York Times bestselling authors Tiffany D Jackson and Nic Stone; Angie Thomas, the author of global hit The Hate U Give; The Beauty that Remains author Ashley Woodfolk; and Nicola Yoon, author of Everything Everything. These six talented writers have written six love stories that take place over the same night, each one intertwining to create a novel that has the feel of a Netflix romcom in book form, with thirteen characters to root for. The authors join us in conversation with young adult novelist Katherine Webber to talk about the collection of stories and how the project came about, give insights into their work and share their own experiences of love and joy. They'll also answer audience questions in an exclusive live Q&A.
This is a live event, with an author Q&A.
Categories: Fiction, World Voices, Young Adults
---