THE OPEN UNIVERSITY IN SCOTLAND EVENT
Greta Thunberg: It's Not Too Late to Change the World
Sun 13 Aug 17:30 - 19:00
Edinburgh Playhouse
BSL Interpreted, Captioned
Cancelled
This event has been cancelled.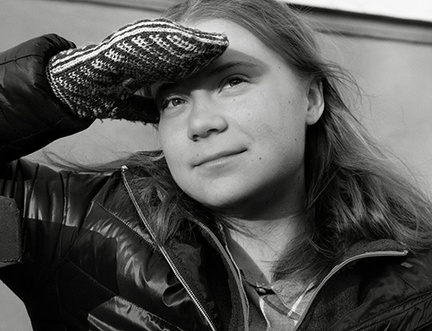 This event has been cancelled. For more information, please see our Press Release

Greta Thunberg has shown how ordinary people can take on the establishment whatever their age or background. To create The Climate Book, she called on the wisdom of over 100 experts, including scientists, artists, Indigenous leaders, and those living on the front line of climate change, to tell the truth about our changing world. Thunberg joins us for a special event at the Edinburgh Playhouse to outline how collective action – and hope – will serve us in the urgent fight for our planet's welfare. This event is chaired by Gemma Cairney. It is hosted in association with Edinburgh International Festival and is sponsored by the Open University in Scotland.
In-person tickets for this exciting, in-person event taking place at Edinburgh Playhouse have now sold out. Please check back for returns nearer the time.
This event will be livestreamed so you can be a part of the event from home. Registration opens on Wednesday 14 June. Our livestreamed events are offered on a Pay What You Can basis. As a charity, we rely on ticket sales and donations to carry out the incredible work we do throughout the year, not just in August, so we do encourage you to truly pay what you can to allow the Book Festival to continue.
Categories: Education, Environment/Nature, Human Rights, Science/Medicine, World Affairs
---