THE BAILLIE GIFFORD EVENT
Gruffalos, Conjurors and Teeny Weeny Genies with Julia Donaldson, Axel Scheffler and Nick Sharratt
Sat 15 Aug 10:00 - 10:50
Baillie Gifford Children's Theatre Online
Free, online
LD

(Learning Disability Friendly Event)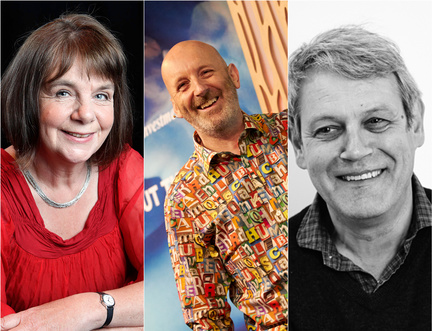 Sponsored by

Families & 4+
In the first of two bumper Book Festival shows from the award-winning author of The Gruffalo, Julia Donaldson treats you to some lively storytelling from her magical book, The Teeny Weeny Genie, followed by a guest appearance from bestselling illustrator Nick Sharratt, who shows you how to draw the Conjurer Cow at home.
There's plenty of singing and performing in this event, and more drawing with Gruffalo illustrator Axel Scheffler, who stops by to show you Zog and the Flying Doctors - but this time, in special protective gear. How's he going to do that?! To top off this fun show, be sure not to miss the performance finale, The Gruffalo in the Deep Dark Wood.
This is a pre-recorded event.
This event will be accompanied by a video resource created by storyteller Ailie Finlay showing parents and carers how to create a sensory story so that those with learning disabilities can join in. You'll find this video on our Learning site in the coming days, and if you click 'Save my place and get reminders' below we can email you when the video is available
Part of our Drawing Stories series of events.
Part of the Baillie Gifford Children's Programme