Harry Josephine Giles & Ely Percy: The Drama's in the Dialect
Wed 18 Aug 16:00 - 17:00
Baillie Gifford Theatre (in West Court)
Captioned
Watch online
Sorry, this event is no longer available to watch.
Attend in person
Baillie Gifford Theatre (in West Court)
£14.00 [£12.00]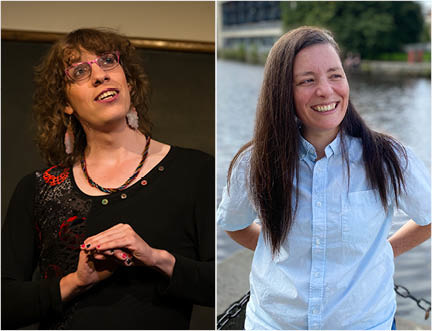 On a far-off space station, Astrid and Darling search for hope as they battle with a pace of progress that threatens to leave them behind. The first full-length novel to be written in Orcadian dialect in over 50 years, Deep Wheel Orcadia is described by author Harry Josephine Giles as 'a gay space communist fantasy written in a small language and about the small peace of small things'. In Ely Percy's witty and acerbic coming-of-age novel Duck Feet, local Scots dialect also sits front and centre. Narrator Kirsty Campbell's quirky view of teenage life in working-class Renfrew, told in episodic chapters, is anything but peaceful as she figures out who she is and where she fits in. The language of both novels brings poetry and life to the young characters, as they attempt to steer a course through the challenges they face. Join Giles and Percy as they discuss the importance and pitfalls of writing in their home dialects with author Heather Parry.
This is a live event with an author Q&A. Authors and participants will be on stage, in the venue. After the event, Harry Josephine Giles and Ely Percy will be doing in-person book signings on the Festival site.
Categories: Gender/Sexuality, LGBTQI+, Language/Translation, Sci-Fi/Fantasy, Scottish Fiction, Scottish Interest
---