Inside Out: Running
Sat 26 Aug 10:00 - 12:00
ECA Courtyard
Changed
Please note: Jenny Tough is no longer able to appear.
Attend in person
ECA Courtyard
£15.50 [concessions £13.50/£10.50]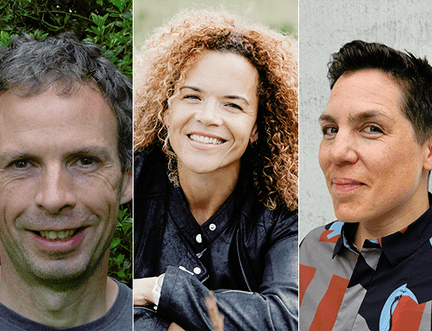 In advance of our event Richard Askwith & Sabrina Pace-Humphreys: Running For Their Lives later today, join the authors, along with endurance cyclist Emily Chappell, for a run in Edinburgh. 24 places available. Meet at the Box Office. This event will start from the Edinburgh College of Art Courtyard.
Start the day on the right foot with a socially paced run around Central Edinburgh, starting and finishing at the Festival site and led by Jemma from Fit And Happy, in association with Skamper. A bag drop will be available, and the run will be at a relaxed speed, with plenty of opportunity to chat to our guest authors and your fellow runners.
This activity should be suitable for anyone who runs regularly. There will be a qualified leader present, but participants must take responsibility for their own safety, dress appropriately, and carry whatever equipment they might expect to need.
Please note: Jenny Tough is no longer able to appear.
Sabrina Pace-Humphreys will now appear in this event.
Supported by James and Morag Anderson
Categories: Sport, Travel/Adventure, Workshop/Masterclass
---