Jeanette Winterson: Remaking Ourselves
Sun 22 Aug 13:00 - 14:00
The New York Times Theatre (in Sculpture Court)
BSL Interpreted
Watch online
Sorry, this event is no longer available to watch.
Attend in person
The New York Times Theatre (in Sculpture Court)
£14.00 [£12.00]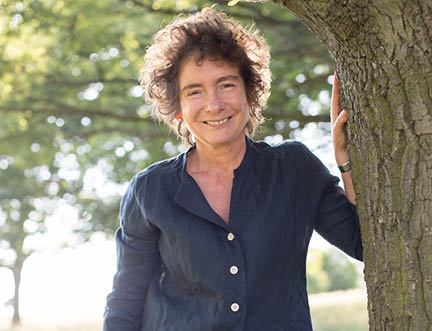 In a recent interview, Jeanette Winterson said 'I believe in human beings, even though they have done some terrible things. But, when I look at history, every invention of ours ends up being used in the worst possible way. What will we do with artificial intelligence, for example?' Her latest book of essays, 12 Bytes, consists of a dozen think-pieces which tackle some of the most interesting talking points around AI. What do love, caring, sex and attachment look like when humans form connections with non-human helpers? Might the world of AI lead us to a place where gender and sexuality cease to be labelled in the same way? And will our physical bodies soon be enhanced by biological and neural implants, keeping us fitter, younger and connected? In this entertaining and thought-provoking talk, the author of novels including Oranges Are Not the Only Fruit and Frankissstein explores how we got here, and where we might go next.
This is a live event, with an author Q&A. If buying a ticket to watch the event in-person, the author will be on stage, in the venue. After the event, Jeanette Winterson will be doing an in-person book signing on the Festival site.
Categories: Gender/Sexuality, Health/Wellbeing, How We Live, Science/Medicine
---