Jenni Fagan with Denise Mina: A City, a Curse and a Century of Secrets
Fri 15 Jan 19:00 - 20:00
The New York Times Main Theatre Online
Free, online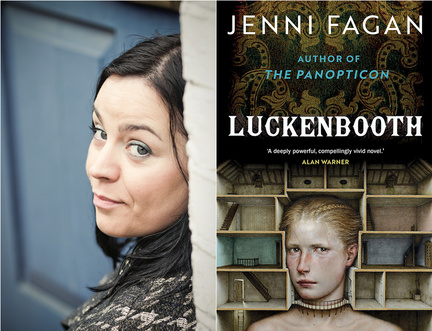 Once in a while, a novel arrives that changes the way that we see and experience a place that we think we already know so well. Edinburgh is a city brimming with stories: almost every building whispers history and holds secrets, stashed away in the stonework. And Jenni Fagan's spectacular third novel Luckenbooth takes us to the heart of the city and its people.
Join the critically acclaimed Edinburgh-based author of The Panopticon and the The Sunlight Pilgrims in her very first event about her new book, to coincide with its launch, alongside another of our favourite authors, the Glaswegian crimewriter and playwright Denise Mina. Together they dive into the depths of the remarkable Luckenbooth, a dazzling literary work of history and ambition that marks a major moment in the literary life of Edinburgh.
Come along for an hour of enlightening entertainment, broadcast live from our studio in Edinburgh. Luckenbooth spans nearly a century in the tenement at 10 Luckenbooth Close. It begins in 1910 as the devil's daughter rows a coffin to the shores of Leith, sold by her father to a rich couple to have their child. The tragic events that follow lead to a curse that will plague the lives of the eclectic collection of tenement residents. In her novel told over nine decades and up and down nine floors, Fagan gifts readers lessons of history as the building and its inhabitants bear witness to the changing world outside the tenement walls.
'One of the most stunning literary experiences I've had in years. Luckenbooth, sprawling the decades with its themes of repression and revenge, brings back something that has long been lacking in the British novel: ambition. If Alasdair Gray's Lanark was a masterly imagining of Glasgow, then this is the quintessential novel of Edinburgh at its darkest.' Irvine Welsh
Jenni Fagan will sign books in person immediately after the event via Zoom. Limited places available: please book your place when you purchase a copy of Luckenbooth in our online Bookshop.
This event will be broadcast live and you'll be able to ask the author questions using our online Q&A. It will also be available to watch after the live broadcast on-demand until Friday 26 February.
Our thanks to players of People's Postcode Lottery for their support of this event.