Jonas Eika & Federico Falco: Destroying Literature's Safety Net
Wed 25 Aug 13:15 - 14:15
Castle View Studio
Watch online
Sorry, this event is no longer available to watch.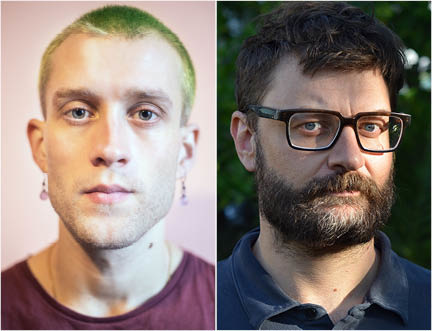 Meet two of the sharpest, funniest, most ferociously precocious talents in international literature. Jonas Eika is one of Denmark's notable younger talents, drawing breathless plaudits from fellow writers. 'Giving a damn isn't supposed to be this fun,' says Marlon James, while Lidia Yuknavitch exclaims that 'Jonas Eika blew the doors and windows of my imagination open.' Today he launches After the Sun, a book of electrifying short stories translated by Sherilyn Nicolette Hellberg, which take the reader from Copenhagen to Cancun and beyond. Meanwhile Argentine writer and publisher Federico Falco has been described as 'the master of the short story' by Scottish author Martin MacInnes. His collection A Perfect Cemetery is his first to appear in English, translated by Jennifer Croft. It is set amid the hills, mountains, plains and flora of Argentina's Cordoba province, where nature is in dialogue with the people who work the land there. Eika and Falco offer new modes of storytelling in an era when the old ones may no longer suffice. Join them as they share their ideas with fellow author Katalina Watt.
This is a live event, with an author Q&A.
Categories: Environment/Nature, European Fiction, Fiction, How We Live, Language/Translation, Words/Reading, World Voices
---