Meet the Makar: A Toast to Scotland's New National Poet
Sat 21 Aug 20:30 - 21:30
Baillie Gifford Theatre (in West Court)
Watch online
Sorry, this event is no longer available to watch.
Attend in person
Baillie Gifford Theatre (in West Court)
£14.00 [£12.00]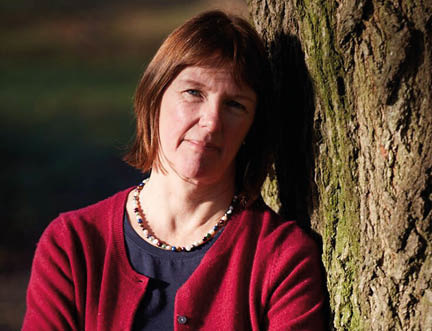 On the 18th of August, poet and essayist Kathleen Jamie was announced as Scotland's new Makar. Jamie – who writes in English and Scots – began writing poetry as a teenager and published her first booklet at the age of 20. "Since then," she says, "writing has remained the touchstone of my life. It's where I do my best thinking, and where I rub up against the world." Jamie is Scotland's fourth Makar, a post that celebrates the integral role that poetry plays in Scottish culture and history. The position of Scots Makar was originally made as a lifetime award to Edwin Morgan in 2004. Following Morgan's death in 2010 the tenure of the role was set at five years, and since then the post was held by Liz Lochhead and Jackie Kay, each of whom imaginatively used her tenure – in strikingly different ways – to advance the role of poetry in the lives of Scottish people. In today's event - chaired by producer and director of Push the Boat Out poetry festival Jenny Niven - we welcome Jamie for her first Book Festival appearance in her prestigious new role.
This is a live event, with an author Q&A. The author of this event may take part remotely; if buying a ticket to watch the event in-person, you'll may be watching them on a large screen in the venue. The interviewer is on stage in the venue.
Supported by Claire and Mark Urquhart
Categories: Poetry/Spoken Word, Scottish Interest, Words/Reading, Writing/Publishing
---