Nadine Aisha Jassat, Sabrina Mahfouz & Amanda Thomson: Outriders Africa - Cape Town, From Art to Ancestry
Wed 26 Aug 11:30 - 12:30
The New York Times Main Theatre Online
Free, online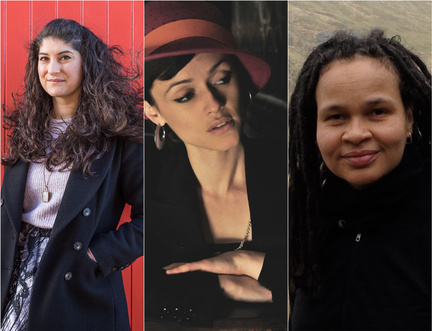 As part of the Book Festival's Outriders programme exploring the shifting landscapes of contemporary Africa, three UK-based writers with razor-sharp perspectives traversed the breathtaking landscapes of South Africa's Cape Town.
Drawn to the unique flora and fauna that permeates southern Africa and curious about how it might reflect the land on which it grows, Scottish visual artist and writer Dr Amanda Thomson and poet Nadine Aisha Jassat, deemed one of 30 Inspiring Young Women Under 30 in Scotland by YWCA Scotland, found themselves wandering the steep slopes of Table Mountain and Cape Point National Park, and discovering the innovative horticultural practices of Kirstenbosch Botanical Gardens.
Thomson was later joined by writer Sabrina Mahfouz, herself interested in contrasting her experience growing up in urban environments with life on the Cape Peninsula. While their journey was sadly cut short due to COVID-19, that won't stop these incisive voices from sharing their experiences.
With a special introduction by South African writer Maneo Mohale, who performs her piece Contra. In partnership with pan-African writers collective Jalada Africa, the place to discover specially curated new writers and voices.
This is a pre-recorded audio-only event.
Part of our Africa: A Balance of Stories festival theme.