Reading Scotland: Shola von Reinhold, Frock Consciousness
Tue 17 Aug 14:30 - 15:30
The New York Times Theatre (in Sculpture Court)
Captioned
Watch online
Sorry, this event is no longer available to watch.
Attend in person
The New York Times Theatre (in Sculpture Court)
£14.00 [£12.00]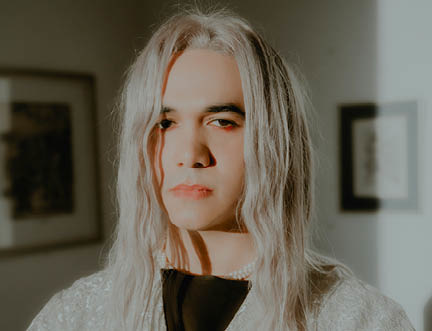 To read Shola von Reinhold's novel LOTE is to be transported to a world of poetry, aestheticism, decadence and queer celebration. 'People like to presume madness over style whenever they have the chance,' it begins, as Reinhold takes readers on a dizzying descent into the archives of the National Portrait Gallery, where Mathilda Adamarola is working. Black, queer and working class, Mathilda does not see herself represented in the Bright Young Things of her research, until she comes across a 'forgotten' Black Scottish poet, Hermia Drumm, and suddenly her world opens up at her discovery. 'I would venture to guess that Anon, who wrote so many poems without signing them, was often a woman,' Virginia Woolf famously wrote. 'And/or Black,' corrects Reinhold. As part of our Reading Scotland series, Reinhold and filmmaker Jamie Crewe have created a new short film based on the Republic of Consciousness Prize-winning novel, which is premiered at the beginning of the event before the two discuss their work and ideas with writer and performer Harry Josephine Giles, bringing us into the spectacular world of LOTE.
This is a live event with an author Q&A. Authors and participants will be on stage, in the venue. After the event, Shola von Reinhold will be doing an in-person book signing on the Festival site.
Supported by Sir Ewan and Lady Brown
Categories: Fiction, Gender/Sexuality, How We Live, LGBTQI+, Poetry/Spoken Word, Race, Scottish Fiction
---