Sarah Ardizzone, Marianne Dubuc & Greet Pauwelijn: Translation Adventures
Age 12+
Tue 17 Aug 13:00 - 14:00
Baillie Gifford Theatre (in West Court)
Watch online
Sorry, this event is no longer available to watch.
Attend in person
Baillie Gifford Theatre (in West Court)
£8.00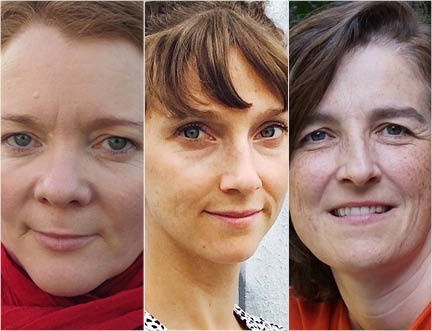 What happens when a book gets translated? How do words and pictures travel from one language into another and who's involved? This event is your chance to follow the journey every step of the way, from the very beginning when the idea was born in the artist's imagination in Québec, right through to the translated book hitting the shelves of a UK children's bookshop. Join Marianne Dubuc, the award-winning writer and illustrator of 1, 2, 3... a l'École, and hear how her book became Ready, Steady, School! One by one, your screen will fill with talking heads, each offering insights into the part they played in bringing this beautiful book to the UK. You'll discover what it takes to publish a book in translation, including the creative choices and practical challenges along the way. It's not as easy as it appears! At the end, author Marianne Dubuc, translator Sarah Ardizzone and Greet Pauwelijn from Marianne's UK publisher Book Island, discuss the process and there'll be a live Q&A with the author.
This is a live event, with an author Q&A. The authors are taking part remotely; if buying a ticket to watch the event in-person, you'll watch them on a large screen in the venue.
Event supported by the Québec Government Office in London
Categories: Language/Translation, Writing/Publishing, Young Adults
---