The Man Booker International Prize Event
The Best International Novel of 2017
Wed 16 Aug 5:45pm - 6:45pm
Garden Theatre
£12.00,
£10.00
This event will now take place at 5.45pm in Garden Theatre.
Changed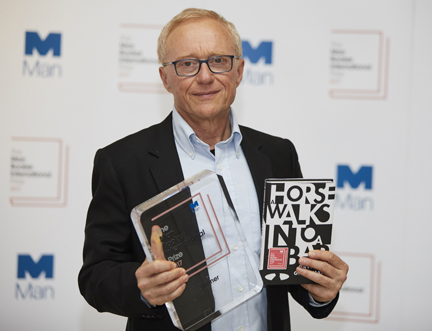 Sponsored by

Winning Translated Fiction
Come and meet a master storyteller who has just added another award to his long list of accolades. This year's prestigious Man Booker International Prize for Fiction has been awarded to Israeli author David Grossman for A Horse Walks Into a Bar, scooping the £50,000 prize, which he shares with the book's translator, Jessica Cohen. We are completely thrilled that Grossman will join us at the Book Festival to talk about his winning novel. Born and still based in Jerusalem, he has long been recognised as one of the world's great novelists, with awards including the French Chevalier de l'Ordre des Arts et des Lettres, Germany's Buxtehuder Bulle, Rome's Premio per la pace e l'azione umanitaria, the Frankfurt peace prize, and Israel's Emet prize.
Set in a small Israeli town, A Horse Walks Into a Bar is focused entirely on comedian Dovaleh Greenstein. Taking to the stage to needle his audience with vulgar and aggressive jokes, Greenstein's repellent performance begins to crumble as he reveals a fateful decision he once made, which has haunted him ever since. The judges of the Prize praised the novel as '…a mesmerising meditation on the opposite forces shaping our lives: humour and sorrow, loss and hope, cruelty and compassion, and how even in the darkest hours we find the courage to carry on.'