Tom de Freston & Kiran Millwood Hargrave: In Search of Sharks
Age 9+
Sun 29 Aug 11:30 - 12:15
Baillie Gifford Theatre (in West Court)
Watch online
Sorry, this event is no longer available to watch.
Attend in person
Baillie Gifford Theatre (in West Court)
£5.00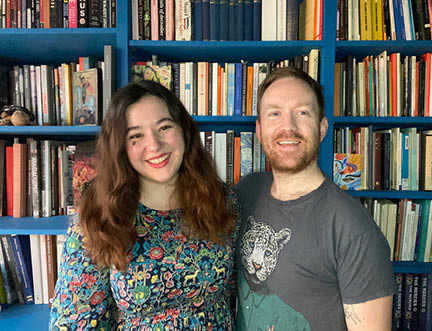 Bestselling author Kiran Millwood Hargrave and award-winning artist Tom de Freston collaborated for the very first time on a beautiful new book that takes you on a journey deep into the sea and beyond. In Julia and the Shark, a girl accompanies her parents to Shetland where her mother is attempting to find and research the elusive Greenland Shark. When the hunt becomes an obsession and things start spiralling, Julia finds herself on an adventure with dark depths and a lighthouse full of hope. This novel is a celebration of our wild natural world, as well as an exploration of family relationships and mental health. Join Kiran and Tom as they dive into the many layers of this stunning story, one that is guaranteed to stay with you long after you have finished the final page.
This is a live event with an author Q&A. Authors and participants will be on stage, in the venue. After the event, Tom de Freston and Kiran Millwood Hargrave will be doing an in-person book signing on the Festival site.
Categories: Environment/Nature, Family, Fiction, Health/Wellbeing, Travel/Adventure
---