Tom Fletcher
Sun 1 Dec 12:00 - 13:00
The Assembly Rooms on George Street
£12.99,
£8.00
Sold Out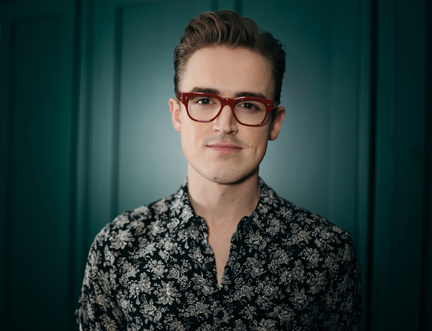 The Christmasaurus and the Winter Witch
FAMILIES & 6+
Experience some Christmas magic with renowned children's author and musician Tom Fletcher as he introduces two exciting new tales: The Christmasaurus and the Winter Witch, the much-anticipated sequel to the bestselling The Christmasaurus, and There's an Elf in Your Book. Find out what inspired Tom's characters, his writing and why he loves Christmas so much, and hear him sing a song from The Christmasurus musical too. Expect plenty of interactive fun and Christmas merriment at this brilliant event for the whole family.

First hitting the heights of fame as a lead singer and songwriter with UK pop sensations McFly, the multi-talented Tom Fletcher has gone on to become one of the UK's bestselling authors for children. Since teaming up with band mate Dougie Poynter to pen the hilarious and hugely successful Dinosaur Who Pooped… series, Tom has written a string of award-winning picture books and novels, including There's a Monster in Your Book and The Creakers. Now he comes to Edinburgh in a one-off appearance in Scotland to launch his latest feasts of festive fun: The Christmasaurus and the Winter Witch and There's an Elf in Your Book.

William Trundle and his extraordinary prehistoric pal are back, and this time they need to save Christmas. Return to the wonderful wintery world of The Christmasaurus for a brand new adventure with Santa at the North Pole. The mysterious Winter Witch holds the key to Santa's time-travelling magic, and when Christmas itself is under threat William and the Christmasaurus must risk everything and work with her to save the day.
For younger readers, There's an Elf in Your Book is a fantastically fun and uniquely interactive treat. What does Elf want? Just to see if you've been naughty or nice this year, but watch out, he's got a few tricks to try and get you to be naughty…

Join Tom for a dazzling hour of Christmassy fun chaired by BBC Newsround presenter Leah Boleto and ask your questions at the end.
Tickets cost £8 and can be bought in tandem with a pre-ordered copy of Tom's new book, The Christmasaurus and the Winter Witch, for £12.99, which Tom will sign after the event (unfortunately due to time restraints, he may not be able to write dedications). On arrival at the venue you can collect your pre-ordered book and we will issue you with a wristband to gain access to the signing queue. Please note: only audience members with a wristband are guaranteed to have their books signed. There may be additional wristbands available on the day.
For those who'd like a signed book but don't wish to queue to meet Tom, there will be a limited number of pre-signed copies of The Christmasaurus and the Winter Witch and There's an Elf in Your Book available on the day. Due to timing only copies of Tom's books will be signed. No other merchandise will be signed and there will not be time for people to queue for photos only.
This event is currently sold out. Please check for returns nearer the time.