Victoria Adukwei Bulley & Simone Seales: Sounds and Silence
Thu 17 Aug 17:15 - 18:15
Spark Theatre
Changed
Please note: Victoria Adukwei Bulley is no longer able to appear in this event and it will go ahead with Simone Seales
Attend in person
Spark Theatre
£15.50 [concessions £13.50/£10.50]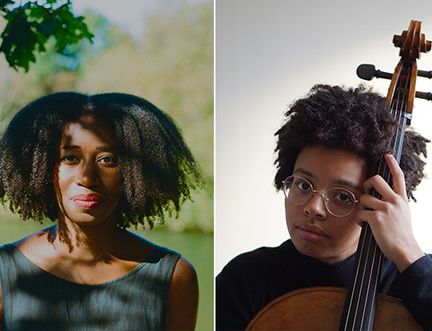 Victoria Adukwei Bulley's debut poetry collection Quiet won 2023's Rathbones Folio Prize and was praised by the judges as 'a quiet revolution of a book – subtle, supple and serious'. Exploring ideas of interiority, Quiet is a sonic experience. Joining Adukwei Bulley in conversation is poet and cellist Simone Seales, who finds and creates radical spaces within the classical music world with improvised performances of music and poetry.
Chaired by Marjorie Lotfi.
Please note: Victoria Adukwei Bulley is no longer able to appear in this event and it will go ahead with Simone Seales.
Categories: Music, Poetry/Spoken Word, Theatre