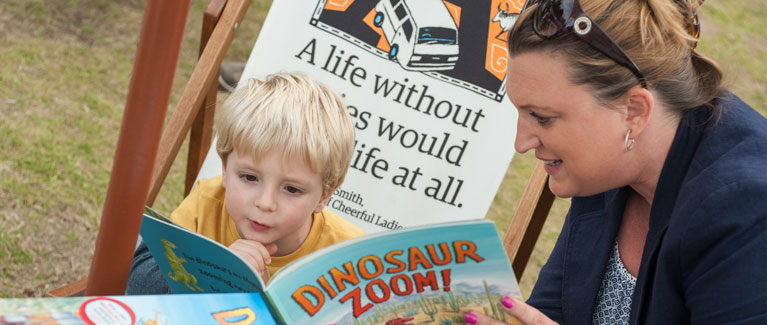 The Book Festival is a safe family-friendly space where both children and accompanying adults can feel at home, have some fun and be inspired. We have answered some of the more frequently asked questions below to help make your visit as enjoyable as possible.
---
Can I take my baby to adult events and do I need a ticket?
We are happy for you to bring your baby to an adult event if you cannot make alternative arrangements. Everyone attending an event must have a ticket. Please request a free baby ticket from the Box Office on the day of the event. Our front of house staff will find you a seat near the exit to allow you to leave swiftly, should it become necessary. Out of consideration for others we will ask you to leave the event if your baby is noisy.
---
How long are children's events?
The majority of events last one hour however the end time of each event is indicated on the event listing on the website. (Please note: the printed brochure indicates an end time only when an event is longer or shorter than 1 hour).
---
Do I have to accompany my child to author events?
We ask that children under 10 are accompanied by an adult to events. Everyone attending an event will require a ticket. For some events, for very young children, each child's ticket also admits one accompanying adult. As space is limited, we can only admit ticket holders - additional babies/siblings may only be admitted at our discretion.
---
How do I know if the event is suitable for my child?
We've included a recommended age range for each event to help you choose. These ages are carefully chosen in consultation with the publisher and author or event leader, taking into account the length, content and format of each event.
---
Latecomers policy
To ensure events remain enjoyable and relaxing for you and for authors we do not admit latecomers into events once the doors have been closed, and we don't give refunds on tickets purchased. However, we recognise that people with very young children may need to leave the venue unexpectedly and our staff will be on hand to help you leave as discreetly as possible, and to help you back in should you wish to return.
---
Is there anywhere I can leave my pushchair?
We have a Buggy Park in Charlotte Square Gardens next to the Baillie Gifford Corner Theatre (see site map). If you wish, you may leave your pushchair or buggy here for the duration of your visit to the Book Festival. Please be aware that the Buggy Park is not staffed and items are left at the owner's risk.
---
Do you sell books for children?
We have two large bookshops in Charlotte Square Gardens. The Baillie Gifford Children's Bookshop is designed just for children (literature for adults is stocked in the main bookshop) and stocks thousands of titles for all ages and tastes from babies through to teens. There are also free Activity and Reading corners at the back of the bookshop where children can read and play.
---
Can I bring my own food and drink?
Yes, of course! Sit on the grass and picnic for as long as you wish - you don't have to see an event to do so. We have provided water taps in the garden (see site map) so you can fill up water bottles.