More articles Thursday 06 October 2016 10:00am
Jeffrey Archer to appear in exclusive Book Festival event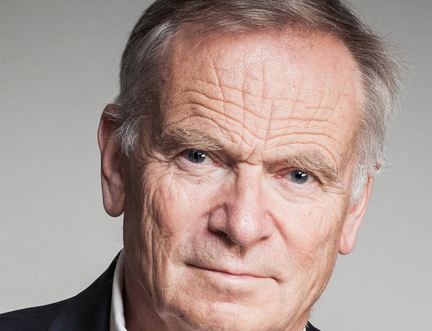 A reunion 33 years in the making.
The Edinburgh International Book Festival is excited to be joined by one of the UK's most formidable and talked-about writers at a special event in November: international bestseller and publishing giant Jeffrey Archer.
Jeffrey's writing career is astonishing. Global book sales surpass 275 million; his last book topped bestseller lists in all global territories simultaneously, and he remains the only UK author to be a top seller in fiction, short stories and non-fiction (The Prison Diaries). A flair for twisting plots, nerve-jangling cliffhangers and engaging characters have made Jeffrey one of the most prolific, dependable and widely-read writers in the world.
The author will be joined on stage at the Usher Hall by Scottish journalist and broadcaster Ruth Wishart, one of the Book Festival's finest regular event chairs. Ruth will put Jeffrey's literary life since 1975 under the microscope, finding out about the latest and final instalment in the seven-book Clifton Chronicles series, This Was a Man, as well as his past releases and what the future holds for the prolific writer. Jeffrey's new release concludes a thrilling episodic saga of love, loss, betrayal and ambition begun in 2011.
Jeffrey occupies an important place in the history of the Book Festival, appearing as he did in the very first Festival in 1983. This will be his first appearance at a Book Festival event in 33 years, a timely return as Edinburgh begins to reflect on 70 years as a Festival City. It's also his first event in Scotland in more than a decade.
Copies of This Was a Man will be available to purchase on the night, and after a Q&A session with audience members, Archer will sign copies of his books.
Tickets priced £12 (£10 concessions) are on sale now from the Usher Hall: call 0131 228 1155 or visit tickets.usherhall.co.uk to book yours.
This event is part of the Edinburgh International Book Festival's Booked! programme, which takes the Book Festival on the road around Scotland throughout the year, supported by players of People's Postcode Lottery and Patrons of the Book Festival. With their support and in cooperation with Edinburgh City Libraries, members of local reading and community groups will be invited to attend the event, bringing many lovers of reading together with an international bestselling author for the first time. For more on Booked! including information on how to get involved, visit edbookfest.co.uk/about-us/booked.
More articles