More articles Thursday 02 August 2012 5:00pm
The conversation begins – Edinburgh World Writers' Conference website goes live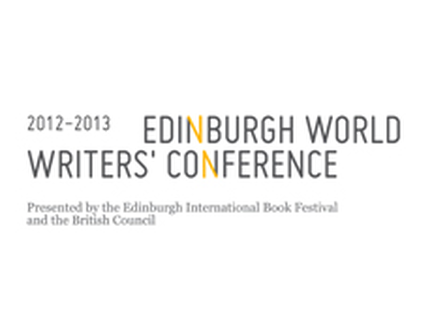 Download PDF
The organisers of the Edinburgh World Writers' Conference today announced that the website for the event –www.edinburghworldwritersconference.org – is now live. The website provides details of all the events taking place every afternoon at the Edinburgh International Book Festival from 17 to 21 August, as well as the speakers, a full list of participating authors, and an opportunity for members of the public to join the worldwide conversation. All five events taking place in Edinburgh will be broadcast live on the site, and participants and audience members are actively encouraged to have their say, both in the conference itself, on the website, via Twitter (#worldwritersconf) and other social media platforms.
The Edinburgh World Writers' Conference is an ambitious programming partnership between the Edinburgh International Book Festival and the British Council. Inspired by the seminal 1962 Writers' Conference, the Edinburgh events of this worldwide conference will involve 50 writers from 25 different countries discussing and debating the role of fiction in society with a public audience, who will have a unique opportunity to meet this stellar line up of world renowned authors and join in the debate. Keynote speakers include Ahdaf Soueif, Ali Smith, Patrick Ness, Irvine Welsh and China Miéville.
Nick Barley, Director of the Edinburgh International Book Festival, said "We are hugely excited to offer the opening events in this year-long conversation, which will travel around the world from Edinburgh, returning to the city in 2013. We look forward to an invigorating debate and welcome the participation of audiences around the world. The new website is a wonderful opportunity for everyone who is passionate about great writing, and great writers, to have their say."
Susie Nicklin, British Council Director of Literature, said "The Edinburgh World Writers Conference represents an opportunity for all of us to rethink how writers, and their writing, can play a part in understanding and improving our world. We are delighted that this platform will allow anyone, anywhere with access to the internet to play an active role in the discussions, both those issuing from Edinburgh and the ensuing 14 different countries taking part in the Conference over the next 12 months."
Edinburgh World Writers Conference Sessions at the Edinburgh International Book Festival run from 3.00pm to 5.00pm daily from Friday 17 to Tuesday 21 August. Tickets, priced at £10 (£8 concessions) are available from www.edbookfest.co.uk or through the Box Office on 0845 373 5888. Each session will also be broadcast live online on www.edinburghworldwritersconference.org.
More articles