Learning lies at the heart of everything we do. We aim to foster a love of books, words and reading, and inspire people of all backgrounds and ages to explore new ideas and expand their horizons.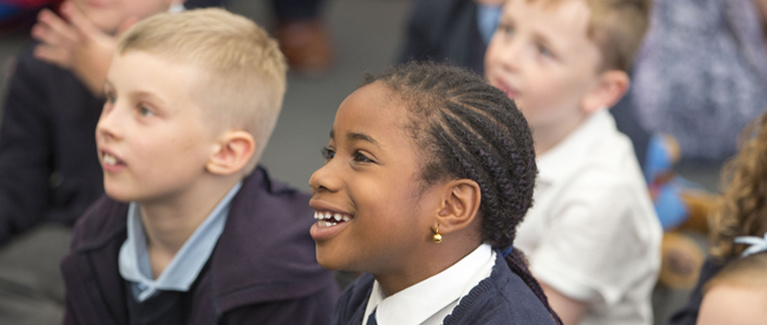 Head on over to our Learning site to find:
Information on our schools events including the Baillie Gifford Schools Programme
Information on the Baillie Gifford Big Book Giveaway and bookshop discounts
A variety of Learning Resources for all ages
Updates on the latest Learning news and events
Details of our Outreach work
---
Sign up for our Schools and Education ebulletins
Get the latest information on our Baillie Gifford Schools Programme and education activities by signing up for our Schools and Education ebulletins. Make sure you place a tick next to 'Schools & Education Information' to receive the relevant ebulletins.
---
Monday 23 - Tuesday 31 August
Join us online this August for a rip-roaring programme of book events curated specially for schools. All Schools events are free to view, and you can take part by watching live online, or catching up at a time that works for you. All live events come with opportunities for pupils to ask authors questions via our Q&A box, and will be accompanied by a learning resource to help you get the most out of every session. With events exploring a variety of curriculum-led subjects and topics from some of the best authors, illustrators and thinkers writing for children and young people today, taking part in the Book Festival is a fun and accessible way to get children engaging with books and stories: exploring the world around them in a creative and thought-prokoking way.
We have curated a unique programme of 14 events to keep young minds active and inspired, which you can watch live and for free on the Book Festival website and YouTube channel. Events for P7's and Secondary Schools run each weekday morning from 23-30 August, while Primary Schools can enjoy the return of the Baillie Gifford Gala Day - with eight 30 minute events running throughout the day on Tuesday 31 August. Each event has a live Q&A and is accompanied by learning resource to help you get the most out of your Book Festival experience. Head to our dedicated Learning Site for more at learning.edbookfest.co.uk
Baillie Gifford Big Book Giveaway
In addition to an inspirational events programme, there is an opportunity for teachers to register their class to receive a free book for every pupil watching an event in the Baillie Gifford Schools Programme. For each event in our programme, five lucky classes will recieve a book for every pupil, and every school that registers will be given a selection of books for their school library. To register a class for this great offer visit learning.edbookfest.co.uk/news/free-books-for-schools and complete the application form. Terms and conditions apply.
25% Bookshop Discount for Schools
We are also offering 25% off any books ordered by schools through our independent online bookshop. Teachers can find the specially created Schools page at shop.edbookfest.co.uk/schools. The offer applies to all books featured in the Baillie Gifford Schools Programme and Baillie Gifford Children's Programmes and is valid until 30 September 2021. For more information, see page 3 of the Baillie Gifford Schools Brochure.
Our public programme - announced in early July - is educational too, and offers hundreds of events, workshops, debates and masterclasses to get grown-ups and children alike thinking and learning:
Adult Programme
Our wide range of informative workshops, creative masterclasses, lively author events and rousing debates aim to inspire and educate, and offer you the opportunity to discuss the hot topics of the day. You'll find hundreds of events featuring world-class authors, writers and thinkers in our adult programme. Full programme to be announced in early July.
Baillie Gifford Children's Programme
Our renowned Baillie Gifford Children's Programme encourages children to play with words and engage with books, and offers plenty of opportunities to discover something new. Featuring the best writers and illustrators for children and teens, the programme gives youngsters the chance to explore subjects as diverse as the natural world, art, history and astronomy, in a vibrant and interactive environment. Full programme to be announced in early July.