The Edinburgh International Book Festival is a registered charity, a not-for profit organisation. It began in 1983 and has since become a key event in the August Festival season, celebrated annually in Scotland's capital city. Biennial at first, the Book Festival became a yearly celebration in 1997.
Since its beginnings, the Book Festival has grown rapidly in size and popularity. Today it produces and stages over 900 author events, covering a huge range of topics, offering thought-provoking entertainment and inspiration for adults, children, schools and communities.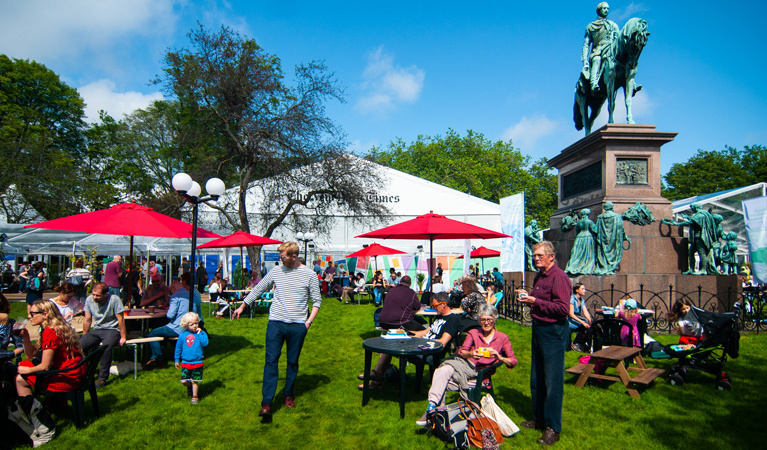 Each year, well-known writers, thinkers and artists from all over the world gather alongside new and up-and-coming authors to become part of a unique democratic forum in which audience and author meet to share stories, exchange thoughts and opinions and discuss some of the world's most pressing issues.
Forming a central part of the Festival is the highly regarded Baillie Gifford Children's Programme, a leading showcase for children's writers and illustrators. Incorporating workshops, storytelling, panel discussions, author and illustrator events and book signings, it now ranks as the world's premier books and reading event for young people.
The Book Festival aims to foster a love of books, words and reading, and inspire people of all backgrounds and ages to explore new ideas and expand their horizons. Since 2015, a Communities Programme has taken the essence of the Edinburgh International Book Festival on the road around Scotland. Working closely with local organisations to create events and activities tailored to the area and the needs of each community, the Book Festival puts on author events in Scottish prisons, hospitals and arts centres, and develops activities for groups that face significant challenges, such as homeless people and refugees.
The Book Festival's home is the beautiful and historic Charlotte Square Gardens, centrally located in Edinburgh's world heritage listed Georgian New Town. Each year the gardens are transformed into a magical tented village, which attracts around 250,000 visits. In 2017, the Book Festival Village expanded onto the west end of George Street.
The Book Festival is proud to run its own independent bookselling operation. All proceeds from the sales of books are invested back into the running of the Book Festival, a not-for-profit charity organisation. Edinburgh International Book Festival raises in excess of 80% of its funds through ticket sales, book sales, sponsorship, individual donations and trusts.
Together with its counterparts, the International Festival, the Jazz & Blues Festival, the Festival Fringe, the Art Festival, the Film Festival, the Edinburgh International Book Festival forms what is now widely regarded as the biggest and best arts festival in the world.
The Edinburgh International Book Festival's current director is Nick Barley, who was appointed in October 2009.