We are committed to reducing our environmental impact, increasing our sustainability and creating a forum for discussion to bring environmental concerns and the climate change debate to a wider public. As a key member of the Festivals Edinburgh Environmental Group, we have worked to create a joint Environmental Policy across all of Edinburgh's Festivals. We are also part of the Green Arts Initiative, the interactive community of over 200 Scottish arts and cultural organisations working to improve their environmental performance, run by Creative Carbon Scotland and Festivals Edinburgh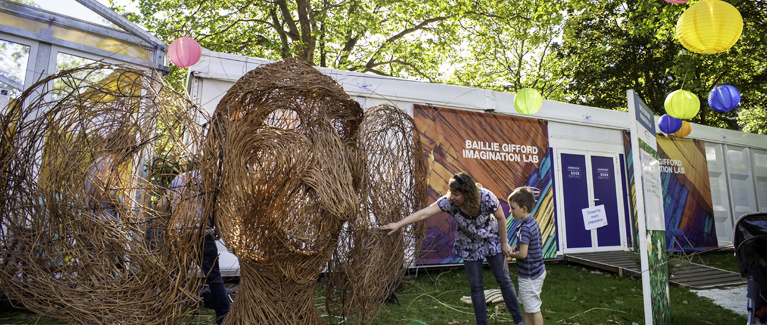 Green Team

We have our own Green Team – a cross-departmental team of staff who champion sustainability throughout the year, attending workshops and the Green Arts Conference hosted by Creative Carbon Scotland, communicating issues and the latest thinking across the organisation. The Green Team ensure that environmental matters are considered at every stage of activity to help identify where changes can be made, however small, to reduce our impact.
If you have any questions or suggestions relating to our green initiatives, please contact our Green Team by emailing admin@edbookfest.co.uk or calling us on 0131 718 5666.
---
Key Achievements
We introduced etickets, a more sustainable alternative to printed tickets.
Our caterers use compostable packaging, plates, cups, glasses and cutlery in all cafes and bars on site and don't sell drinks in plastic bottles.
We are Zero Waste Scotland compliant, separating 100% of recyclable waste (including food waste) in our office and on our Festival site.
We have prominent public drinking-water taps across our Festival site to encourage people to use reusable bottles, rather than using plastic cups or bottles.
All our public and author toilets on site are connected to mains sewerage, avoiding the use of chemicals and waste collection vehicles.
Our HR portal, an online recruitment and HR management facility, saves paper and postage by enabling electronic applications, communications and contracts for all staff.
Where possible, art materials used in craft activities on site are recycled, non-toxic and biodegradable.
We encourage sustainability on site from a young age with specially designed child-friendly recycling bins.
Staff uniforms use fairly-traded and, where available, biodegradable materials.
Environmental sustainability is embedded in all staff training and employee handbooks and we welcome suggestions on how to improve our practices from all members of staff.