Welcome to the Book Festival press office. If you have a media request of any sort, please contact us at press@edbookfest.co.uk and we will do our best to help.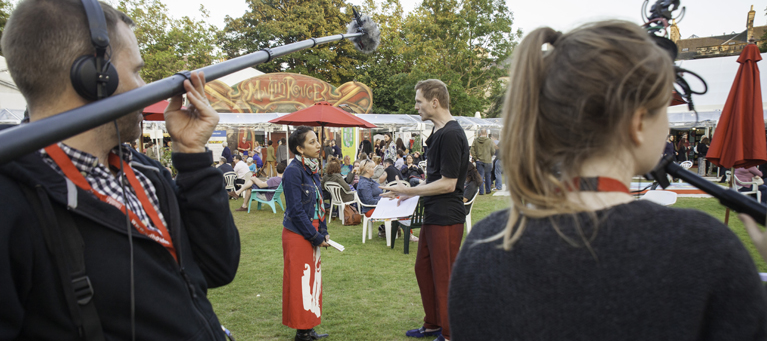 The Press Office can advise on specific areas of the programme, filming, recording, TV and radio broadcasts or help to arrange interviews with visiting authors and Book Festival staff.
---
Can I download a Press Pack?
The press pack for the 2019 Book Festival is available to download here. The programme for the 2020 Book Festival will be announced in June 2020.
---
Download Press Releases
Visit our Press Releases page where you can read and download all Book Festival Press Releases.
---
Where is the Press Office?
The Press Office will be situated in the heart of the Book Festival in Charlotte Square Gardens and provides quiet space for interviews, radio and TV recording, facilities for live TV broadcasts, a separate working space for photographers, unlimited tea and coffee, daily newspapers and good company all day. We have fast wireless broadband but do not provide computers - please bring your own laptop.
---
How do I get a Press Pass?
All journalists, photographers and broadcasters must pre-register to qualify for press accreditation.
---
How do I get tickets to events?
Once you receive your accreditation confirmation, you will be able to request tickets online. We will allocate one ticket per publication per event where available. Please note we do not hold press tickets for workshops or Amnesty International Imprisoned Writers events (tickets to the latter are free, and may be picked up from the Box Office on the day of the event). Press tickets to children's events are limited to those events taking place in the Baillie Gifford Main Theatre. It may be possible to arrange press tickets to other events in the Baillie Gifford Children's Programme, but these must be requested by email to press@edbookfest.co.uk before the end of July. Press tickets can be collected from the Press Office in Charlotte Square on the day of the event.
If you have any particular access requirements, please do let us know via email to press@edbookfest.co.uk
---
How do I get photographs of events?
We have a library of high resolution Book Festival images - please contact us for details. A limited selection of high resolution images is available for download from our Press Image gallery. Please note only Book Festival staff photographers have access to events.
Photocalls for authors will be arranged daily during the Festival, and an email invitation sent out to all photographers the previous day. Once you have accredited as a photographer you will be automatically added to this list. Please note we do not arrange photographs for authors outwith the daily photocalls unless under exceptional circumstances and we ask that photographers respect authors privacy at all other times when they are at the Book Festival.
---
How do I arrange interviews with authors and participants?
All requests to interview authors, participants and staff at Edinburgh International Book Festival should be directed through the press office. Please contact us at press@edbookfest.co.uk and we will do everything we can to facilitate your request.
---
Can I film or record events?
This may be possible for some events, depending on the venue and the permission of the participants. Please see Conditions of Consent to Film for details, and contact press@edbookfest.co.uk well in advance of the Festival. We will do everything we can to facilitate your request.
---