The 2018 Book Festival takes place from 11-27 August
Entry to the Book Festival Village is FREE and EVERYONE is welcome! There is much to enjoy during a visit to the Book Festival, it's not only about the events. The Festival's home, the beautiful, leafy Charlotte Square Gardens (at the west end of George Street, a minute's walk away from Princes Street), is a wonderful space in which to sit, talk, think, play and be entertained. In 2017, our tented village also expanded out to George Street with new venues and seating areas so there are now even more opportunities to relax and be entertained. You can see a favourite author, join in a workshop or debate, enjoy a cuppa in the café, a beer or a wee dram in the bar, or simply park yourself on the grass (with or without a book) and soak up the atmosphere.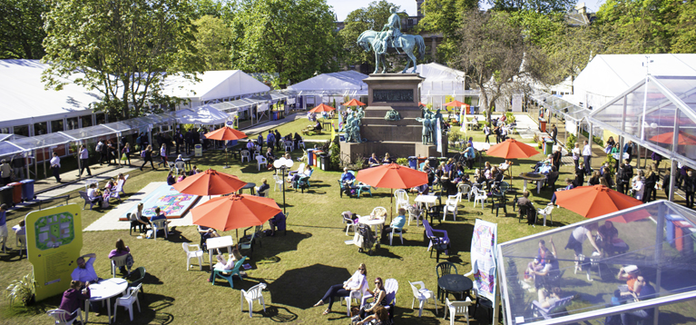 We run two independent bookshops in Charlotte Square Gardens - one for adults and one especially for children. They stock thousands of titles by visiting authors plus a wide array of contemporary literature, with all proceeds going directly back into the Book Festival.
There are plenty of refreshments on site with our three cafés offering a variety of fairtrade hot and cold drinks, light snacks, yummy cakes and ice-cream plus a fully-licensed bar.
And we have a mini-festival called Unbound - it takes place in the Spiegeltent from 9pm until 11pm and offers authors the opportunity to try new approaches. You can expect a mix of literature, music, comedy and a few surprises. It is absolutely free, so come along one evening with some friends and soak up the atmosphere.
Remember, entry to the Book Festival Village is FREE and EVERYONE is welcome!
---