Accessibility information
Our Access Officer can help with any specific needs for your visit and answer questions. Please contact access@edbookfest.co.uk.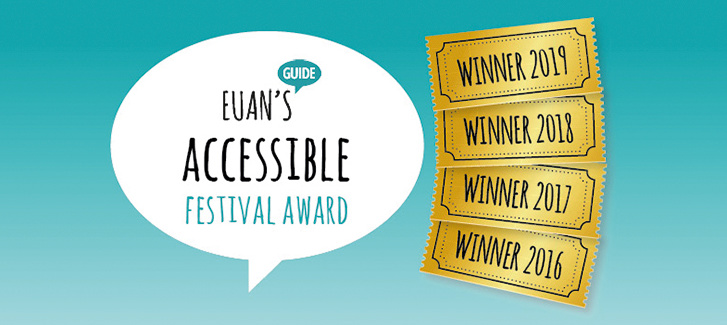 Braille, audio and large print
Contact us on: 0131 718 5666 or mailinglist@edbookfest.co.uk and we will do our best to get you the brochure in the format you need.
Pay What You Can for events
Some events at the Book Festival, including all livestreamed events, are Pay What You Can. Pay any amount to watch, taking into consideration what you can afford to spend. This pricing helps make the Book Festival accessible to those with limited means. A standard priced ticket is £15.50 for adult events and £5 for children's events, but paying more for your ticket helps us to continue to offer Pay What You Can pricing and supports those who need it most.
Sound enhancement in theatres
We have got sound enhancement systems in our three largest venues: Baillie Gifford Sculpture Court, Baillie Gifford West Court and Spark Theatre. Please collect earphones, a receiver and instructions from the Information Desk.
Wheelchair access
The Book Festival's site and venues at Edinburgh College of Art are fully wheelchair accessible. We have wheelchairs you can borrow. Please call our Box Office on 0345 373 5888 or email boxoffice@edbookfest.co.uk when you book your tickets if you require assistance. See below for wheelchair seating requests.
Seating requests
If you have a wheelchair or you need to sit in a specific area (aisle, etc) please let the Box Office know as soon as possible when you book or at least two days before your event. Due to space and demand we cannot also reserve seats for others in your group – we want to ensure the most accessible seats are available for those who need them.
Companion tickets
If you need a support person or aide to attend events they are entitled to a free companion ticket. Contact the Box Office on 0345 373 5888 or email boxoffice@edbookfest.co.uk as soon as possible after booking your ticket. Free tickets cannot be booked online. For popular events or on the first day of bookings, we recommend purchasing an extra ticket for your companion, then contacting the Box Office for reimbursement.
Captioned and BSL interpreted events
A selection of events, both in-person and livestreamed, are scheduled with live-captioning or a BSL interpreter. Look for the tag under each event in the brochure or use the website filters to see the full list. When an event states it is captioned or BSL interpreted, it means both the livestream of the event (if there is one) and the in-person event will offer these services.You can see the list of events with captions or a BSL interpreter here.
BSL on request
You may request a BSL interpreter for any event in the programme. Please let us know promptly. If we are unable to fulfil a request we will refund or exchange your tickets.
How it works
- Buy tickets to the event you want to see in the usual way.
- Email bsl@edbookfest.co.uk or phone 0345 373 5888 to request an interpreter.
- We process requests weekly and make arrangements with the interpreter before confirming with you.
- To allow time for our interpreters to prep, we accept requests up to Friday 28 July.
Toilets
We have toilets for everyone in the Book Festival Village at Edinburgh College of Art, including gender neutral toilets, a wheelchair accessible toilet and a fully accessible Changing Places toilet, complete with a hoist and changing table (please provide your own sling).
Assistance dogs
Assistance dogs are welcome. Please let the Box Office know at least a day before your event so we can make sure you are seated somewhere suitable.
Hidden Disabilities Sunflower
Wearing the Hidden Disabilities Sunflower lanyard discreetly indicates to our trained staff that you may need additional support or help as you navigate the Book Festival site and attend events. Lanyards are available at the entrance.
Accessible parking
There are some accessible parking spaces in the forecourt of Edinburgh College of Art. We ask that these are prioritised for Blue Badge holders. This area can also be used as a drop-off point if extra room is required. There is an additional drop-off point at the entrance on Lauriston Place for all visitors.
Quiet space
We have created a comfortable quiet space on the Book Festival site for anyone who wants to get away from the hustle and bustle for a while. Ask a member of staff for directions.
Accessibility at the Book Festival is supported by players of People's Postcode Lottery.