Elsewhere: an innovative writing project
In 2010 we commissioned fifty writers from across the world to compose a short story on a particular theme. That theme was Elsewhere, and authors for adults and children, both established and new, took up the challenge and ran with it. The result is a collection of vivid, moving and entertaining takes on the theme of Elsewhere including contributions from Michel Faber, Yiyun Li, David Vann, Michael Morpurgo, A L Kennedy, Alasdair Gray, David Almond and William McIlvanney.
---
Elsewhere stories online
Thanks to funding from the Scottish Government's Edinburgh Festivals Expo Fund all fifty stories are available to read and download on our website. Many of the authors involved in the project also recorded podcasts of themselves reading their Elsewhere piece – visit Look and Listen where you can hear Julia Donaldson reading her Ballad of Jemmy Button, and listen to Roddy Doyle reciting Los San Patricios. These and other podcasts are also free to download from iTunes.
---
Elsewhere stories in print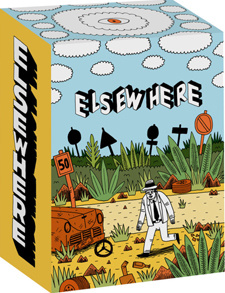 In 2011 we teamed up with Glasgow-based Cargo Publishing and award-winning US designers McSweeney's which saw the fruits of the Elsewhere project transformed into a beautiful set of printed books containing all fifty stories.

The Elsewhere box set was published in September 2012 and is available to buy in all good bookshops or you can buy it online.