We have collaborated with the Edinburgh International Festival to create a series of five events, which will be staged at the International Festival across five nights.
Each event brings together two spoken word artists, performing their own set of performance poetry, including a specially commissioned piece inspired by Gil Scott-Heron and Brian Jackson's 'A Toast to the People'. Following their sets, the two artists take part in an exclusive discussion about their work and the pervading issues and themes of today. The events are a celebration of emergence, of the kind of world that we might find, and of a new world order that we might imagine and make possible. Our inspirational spoken word artists give us their ideas of what this might be. Celebratory or speculative, personal or political, comfortable or dangerous, the newly commissioned work will be performed live, then created into a series of short films to be released online after the event.   
Tickets should be booked through the Edinburgh International Festival's website – follow the links below for each event. A Toast to the People has been made possible through the PLACE programme.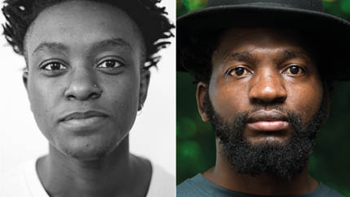 A Toast to the People: Jay Bernard & Jefferson Tshabalala
Mon 23 Aug 20:00, BSL Interpreted
Two of today's most exciting young performers are nothing short of compelling. Jay Bernard is a writer and inter-disciplinary artist whose impactful work is rooted in social history. Their debut collection Surge won the 2017 Ted Hughes Award and they were named Sunday Times Young Writer of the Year in 2020. Joining Bernard is Jefferson Tshabalala, a South African writer, director, performer and founder/owner of the live arts production house Kiri Pink Nob Arts. Tshabalala merges poetry, hip hop, comedy and traditional dramatic arts to communicate innovative and experimental work that focuses on Black experiences and culture. He is one of the winners of the 2020 Standard Bank Young Artists award, one of South Africa's most sought-after arts prizes.
---

A Toast to the People: Inua Ellams & Saul Williams
Tue 24 Aug 20.00, BSL Interpreted
An electric evening full of unexpected moments and plenty of audience engagement awaits. London-based Inua Ellams is an international touring poet, playwright, performer, graphic artist and designer. His published books of poetry include Candy Coated Unicorns and Converse All Stars, Thirteen Fairy Negro Tales and The Half-God of Rainfall, and his first play The 14th Tale was awarded an Edinburgh Fringe First Award. Ellams performs along with Saul Williams, a poetry titan who has performed in over 30 countries, with invitations spanning from The Louvre to the Lincoln Center and Sydney Opera House. New York-based Williams has recorded with the likes of Nine Inch Nails and Allen Ginsburg and more recently released his latest music works, Encrypted & Vulnerable.
---

A Toast to the People: Hollie McNish & Wana Udobang
Wed 25 Aug 20:00, BSL Interpreted
A celebration of contemporary storytelling at its finest. Not easily categorised, Glasgow-based Hollie McNish is a writer who loves writing and it shows. She drew huge crowds when she appeared at the Book Festival with her Ted Hughes Award-winning poetic memoir Nobody Told Me. She has released two spoken word albums and a collection titled Plum since winning the UK Poetry Slam in 2009, and her new book Slug…and other things I've been told to hate was out in May. McNish performs along with Wana Udobang, a storyteller and artist working at the intersection of writing, poetry, performance and film. She has released three studio albums as a poet and for her work in journalism she's been awarded numerous fellowships, including the International Women's Media Foundation Fellowship. Udobang has spent the last five years developing and curating Culture Diaries, an archival project and Pan-African artist network that uses multi-platform storytelling to document African artists.
---

A Toast to the People: Vanessa Kisuule & Safiya Sinclair
Thu 26 Aug 20:00, BSL Interpreted
Two artists bring their wealth of diverse experiences to this memorable event. Bristol-based Vanessa Kisuule is a writer and performer who has won over ten slam titles, including The Roundhouse Slam 2014. She was Glastonbury Festival's Resident Poet in 2019 and her recent poem on the historic toppling of Edward Colston's statue, Hollow, went viral, gaining over 600,000 views on Twitter in three days. Kisuule is currently working on an essay collection and her debut novel. She is joined by Safiya Sinclair, a writer working across poetry, fiction and memoir. Sinclair's writing is political and rooted in her childhood in Jamaica, where she was born and raised. The winner of a Whiting Writers' Award, the OCM Bocas Prize for Caribbean Poetry and the Phillis Wheatley Book Award, Sinclair's poetry collection Cannibal was selected as one of the American Library Association's Notable Books of the Year.
---

A Toast to the People: Francesca Beard & Rafeef Ziadah
Fri 27 Aug 20:00, BSL Interpreted
These two artists have a strong human-focused repertoire, which gets us thinking about ourselves, our place in the world and our relationship to others. Francesca Beard is a performance poet whose research-informed work is inspired by emerging knowledge about ourselves and the universe. She is a current Associate Artist with All Change and was previously poet-in-residence at The Barbican, BBC White City and The Tower of London. Her stories about what it means to be human touch a raw nerve and she has represented contemporary UK literature with the British Council in 23 different countries. Beard is joined by Rafeef Ziadah, a Palestinian spoken word artist and human rights activist based in London. Her live readings are a blend of poetry and music and she has released three albums to date, most recently the stirring Three Generations, a personal ode to Palestine and the themes of defiance and survival. Ziadah's specially commissioned work promises a powerful finale to the event.