Alastair Chisholm & Elle McNicoll: Can Robots Be Friends?
Age 9+
Sun 22 Aug 14:30 - 15:15
Baillie Gifford Theatre (in West Court)
Captioned
Watch online
Pay what you can to watch online. Available to watch any time.
Attend in person
Baillie Gifford Theatre (in West Court)
£5.00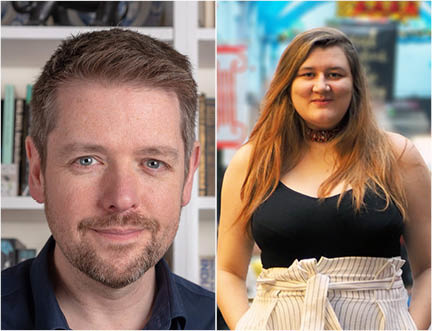 The future is coming, and it DEFINITELY includes Artificial Intelligence. But how do we know whether we will be friends with these robots? Will they think or feel things like we do? In their incredible new novels Alastair Chisholm, with Adam-2, and Elle McNicoll, with Show Us Who You Are, explore these questions whilst taking us on thrilling unputdownable adventures. Join them for a talk chaired by Dr Melanie Ramdarshan Bold where they explain more about the convincing visions of the future they have created, the dastardly characters in them, and whether they think that eventually robots and AI will be friends, or foes.
This is a live event with an author Q&A. Authors and participants will be on stage, in the venue. After the event, Alastair Chisholm and Elle McNicoll will be doing in-person book signings on the Festival site.
Categories: Fiction, How We Live, Sci-Fi/Fantasy, Science/Medicine, Travel/Adventure, Young Adults
---