Alex Renton & Lisa Williams: Scotland's Black History Matters
Wed 18 Aug 17:30 - 18:30
The New York Times Theatre (in Sculpture Court)
BSL Interpreted
Watch online
Pay what you can to watch online. Available to watch any time.
Attend in person
The New York Times Theatre (in Sculpture Court)
£14.00 [£12.00]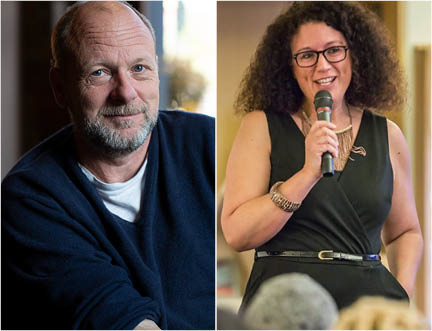 It is still a misconception and a deflection tactic used in Scotland that we 'were not as bad as the English', but as statues were toppled during the Black Lives Matter rallies last year, people were armed with new knowledge and a curiosity to reckon with the past. For some, this has meant confronting the uncomfortable truth that they are beneficiaries – politically, economically and socially – of colonialism and empire. Lisa Williams' Black History Walking Tours – which she created in her role as founder of the Edinburgh Caribbean Association – give people a chance to learn about prominent Black figures, and also understand Scotland's past and ongoing racist politics. She met journalist Alex Renton after the publication of his book Blood Legacy, which details the story of his own Scottish ancestors who were part of a group of 3,000 British people who, at abolition in 1834, owned half of all enslaved people in the British Caribbean. Today, Williams and Renton talk to Sally Magnusson about inheritance, the case for reparations and how we must rethink the past to ensure a different future.
This is a live event with an author Q&A. Authors and participants will be on stage, in the venue. After the event, Alex Renton will be doing an in-person book signing on the Festival site.
Categories: History, Politics, Race, Scottish Interest
---