Edmund de Waal: Objects of Desire
Thu 19 Aug 19:00 - 20:00
Baillie Gifford Theatre (in West Court)
Captioned
Watch online
Pay what you can to watch online. Available to watch any time.
Attend in person
Baillie Gifford Theatre (in West Court)
£14.00 [£12.00]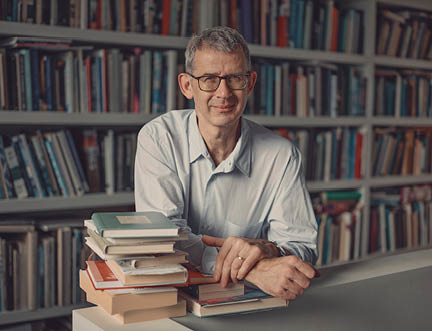 There's a house on the Rue de Monceau in Paris that's home to a museum of lavish art and objects, all collected in the name of young Count Nissim de Camondo. This belle epoque treasure is a few doors down from the home of Edmund de Waal's ancestors, whose collection of carved ivory figures he wrote about in his memoir The Hare with Amber Eyes. During lockdown, De Waal – a ceramicist first and foremost – has been planning an exhibition in the Camondo museum. In thinking about the collection and the people who amassed it, he found himself writing missives to the long-dead Count Nissim as a way of interpreting the family's treasures and uncovering new layers to the Camondo story. The resulting book, Letters to Camondo, is a brilliant companion piece to The Hare, exploring similar themes of familial love, identity, and despair at the anti-semitism endured by Jewish citizens in the 1930s. In this event, De Waal explains his deep fascination with the objects in the museum – and why they also reveal much about his own personal and cultural history – with Lennie Goodings, author of A Bite of the Apple: A Life with Books, Writers and Virago.
This is a live event, with an author Q&A. If buying a ticket to watch the event in-person, the participants will be on stage, in the venue. After the event, Edmund de Waal will be doing an in-person book signing on the Festival site.
Categories: Art/Design/Photography, Family, History
---