Graeme Armstrong, Jenni Fagan & Caleb Femi: Take Your Place 
Sat 14 Aug 13:00 - 14:00
Baillie Gifford Theatre (in West Court)
Captioned
Watch online
Pay what you can to watch online. Available to watch any time.
Attend in person
Baillie Gifford Theatre (in West Court)
£14.00 [£12.00]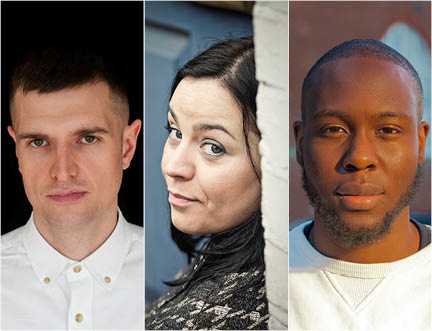 Since early 2020 our sense of home and our relationship to place has changed dramatically. Recurring lockdowns and 'stay at home' orders have seen people confined to their houses, flats and immediate local area. For some, discoveries of outdoor hidden gems have provided a new way to connect with a familiar place, while others have felt trapped and isolated. During the Book Festival's Citizen workshops, which have been taking place with local people from North Edinburgh and Musselburgh, the importance of place and the participants' relationship to their local area and environment has been an ongoing theme. With this in mind, we have invited authors Jenni Fagan (Luckenbooth), Caleb Femi (Poor) and Graeme Armstrong (The Young Team), all of whom have placed locality at the centre of their writing in their most recent books, to discuss what home, environment and community will mean in a post-pandemic world.   This event is part of Citizen, our long-term creative programme working in partnership with organisations across Edinburgh and Musselburgh, offering local people a platform to explore identity, connection and place. Find out about our Communities Programme: ontheroad.edbookfest.co.uk   
This is a live event, with an author Q&A. Authors and participants will be on stage, in the venue. After the event, Jenni Fagan will be doing an in-person book signing on the Festival site.
Categories: Environment/Nature, Health/Wellbeing, How We Live, Scottish Fiction, World Voices
---