Helena Attlee with Lev Atlas & Greg Lawson: Fiddler on the Don
Mon 16 Aug 11:30 - 12:30
The New York Times Theatre (in Sculpture Court)
Watch online
Pay what you can to watch online. Available to watch any time.
Attend in person
The New York Times Theatre (in Sculpture Court)
£14.00 [£12.00]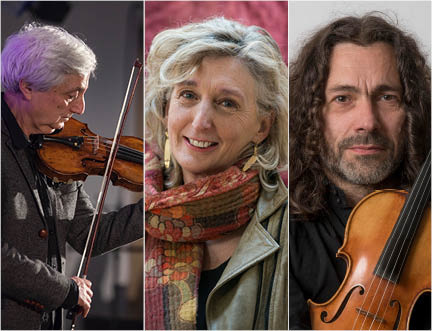 Objects passed down the generations can provide a rich source of stories. Travel writer Helena Attlee hit on a particularly interesting example of this when, at a folk concert in Wales, she was struck by the gorgeous tone of a violin being played by someone called Greg. It turned out that he had bought it from a man called Lev, who had been told his violin had been made in Cremona (home of the legendary Stradivarius). Lev had bought it from a gypsy in the Russian town of Rostov-on-Don in 1980. So began Attlee's quest to discover more, and Lev's Violin recounts Attlee's journeys to Cremona, Venice and the Black Sea in a bid to unlock the history of the instrument. We are delighted to reunite Attlee with the men who began her story: Greg Lawson teaches at the Royal Conservatoire of Scotland, while Lev Atlas is principal viola with the Scottish Opera Orchestra. Today they share the sounds and stories of Lev's violin in a special event featuring music and discussion, chaired by Allan Little.
This is a live event, with an author Q&A. Authors and participants will be on stage, in the venue. After the event, Helena Attlee will be doing an in-person book signing on the Festival site.
Supported by Geoff and Mary Ball
Categories: Biography/Memoir, Brexit/Europe, History, Music, Travel/Adventure
---