Jed Mercurio & Prasanna Puwanarajah: The Bionic Policeman
Mon 16 Aug 20:30 - 21:30
The New York Times Theatre (in Sculpture Court)
BSL Interpreted, Captioned
Watch online
Pay what you can to watch online. Available to watch any time.
Attend in person
The New York Times Theatre (in Sculpture Court)
£14.00 [£12.00]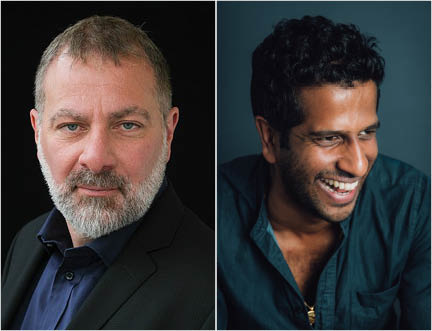 If you were one of the millions of people captivated by hit TV police thriller Line of Duty, the name of its creator and screenwriter Jed Mercurio will be very familiar. Now Mercurio has teamed up with actor, writer and director Prasanna Puwanarajah and illustrator Coke Navarro to produce Sleeper, the first in a hotly-anticipated graphic novel series. It follows the story of DS-5, a 'biologically-enhanced law enforcement marshal' – a kind of Bionic Man for the digital age – who is about to be decommissioned after decades working in deep space. But as DS-5 returns to our solar system there is a mysterious explosion and his pod crashes on Titan. There, he becomes embroiled in the investigation of a mass murder, but it is a race against time as his ageing tech begins to fail. Join Mercurio and Puwanarajah for a crazy journey into the far reaches of their imagination as they talk to celebrated and bestselling Scottish crime writer Val McDermid.
This is a live event, with an author Q&A. The authors are taking part remotely; if buying a ticket to watch the event in-person, you'll watch them on a large screen in the venue. The interviewer is on stage, in the venue.
Categories: Crime/Thriller, Fiction, Film/TV/Media, Illustration, Sci-Fi/Fantasy, Young Adults
---