THE NATIONAL LIBRARY OF SCOTLAND EVENT
Liz Lochhead: New and Collected Poems
Fri 25 Aug 11:45 - 12:45
Baillie Gifford Sculpture Court
Captioned
Attend in person
Baillie Gifford Sculpture Court
£15.50 [concessions £13.50/£10.50]
Watch online
Pay what you can to watch online. Available to watch any time.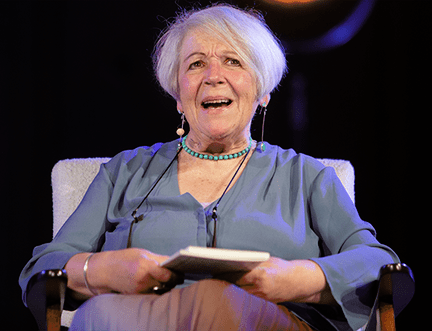 Motherwell-born writer Liz Lochhead presents works spanning a lifetime from her recently published New and Collected Poems. It's just over 50 years since the publication of her first collection, Memo for Spring, and since then Lochhead has published several plays and poetry collections. In today's session, Lochhead will give an hour-long talk interspersed with poems.

All written works quoted in this event are © Liz Lochhead.
Categories: Poetry/Spoken Word, Scottish Interest, Words/Reading, Writing/Publishing