Michael Pedersen presents Good Grief!
Sun 29 Aug 20:30 - 22:00
Baillie Gifford Theatre (in West Court)
Watch online
Pay what you can to watch online. Available to watch any time.
Attend in person
Baillie Gifford Theatre (in West Court)
£16.00 [£13.00]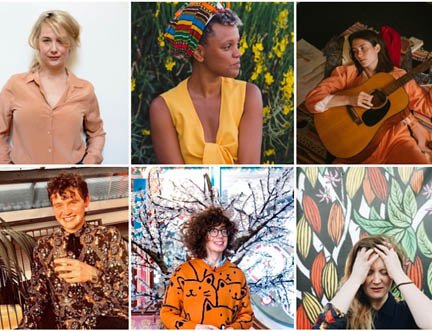 Come bask in the company of your favourite ghosts at the Good Grief! Salon – where the grief comes glittered, gritty and gutsy. We have all lost something over 'The Big Still', this last weird epoch of living, be it: time, trips, tips, friends, cash, kudos, lovers, or freaky opportunities we're not yet ready to utter. What better reason to get together than to celebrate the love in the things we're missing? Let's light a fuse for the jive of healing, let words be our beacons, beamed into the night. For one night only, prize-winning Edinburgh writer and Neu! Reekie! co-founder, Michael Pedersen presents some of his favourite voices from across literature and the arts. Celebrating with him is an all-star cast of writers and musicians: E A Hanks, Gemma Cairney, Rachel Sermanni, Hollie McNish, and Michael Mullen, who delivers a lustre-loaded salon-style waltz of poetry, prose and music, lighting a spark to make our way through the dark.
This is a live event with all the authors and participants appearing on stage, in the venue.
Categories: Art/Design/Photography, Fiction, Music, Poetry/Spoken Word
---