Peter Ross: The Stories and Glories of Graveyards
Fri 20 Aug 14:30 - 15:30
Baillie Gifford Theatre (in West Court)
BSL Interpreted
Watch online
Pay what you can to watch online. Available to watch any time.
Attend in person
Baillie Gifford Theatre (in West Court)
£14.00 [£12.00]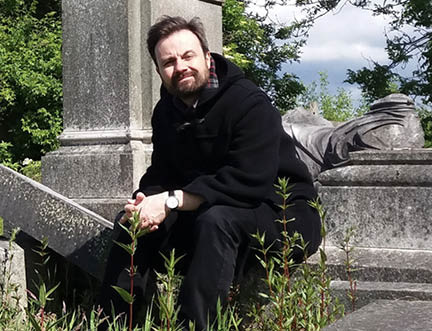 How is it possible that a book about graveyards can be so full of life? The colourful characters who populate Peter Ross's non-fiction book, A Tomb with a View, include a bisexual Italian Bohemian hedonist named Marchesa Luisa Casati, who is buried in Brompton Cemetery alongside her taxidermied Pekinese dog. Hilary Mantel said, 'In his absorbing book about the lost and the gone, Peter Ross takes us from Flanders Fields to Milltown to Kensal Green, to melancholy islands and surprisingly lively ossuaries... a considered and moving book on the timely subject of how the dead are remembered, and how they go on working below the surface of our lives.' Ross joins us in conversation with James Runcie to share his book and its cornucopia of stories, showing us how graveyards are far from simply resting places for the dead, but memory palaces rich with history and vitality.
This is a live event with an author Q&A. Authors and participants will be on stage, in the venue. After the event, Peter Ross will be doing an in-person book signing on the Festival site.
Categories: History, How We Live, LGBTQI+, Philosophy
---