Polly Barton & Eley Williams: Words That Define Us
Thu 19 Aug 10:00 - 11:00
Baillie Gifford Theatre (in West Court)
Watch online
Pay what you can to watch online. Available to watch any time.
Attend in person
Baillie Gifford Theatre (in West Court)
£14.00 [£12.00]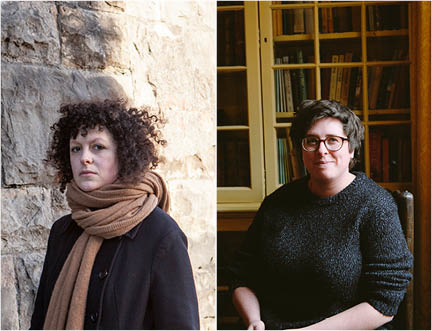 We define words – and then they define us. Meet two authors whose delightful relationship with words and meaning comes to the foreground in their work. Eley Williams won the James Tait Black Prize for her debut short story collection Attrib., a word-of-mouth hit that demonstrated her joyfully ludic approach to language. Her eagerly awaited debut novel, The Liar's Dictionary, involves a woman employed to root out invented words, maliciously seeded into Swansby's New Encyclopaedic Dictionary. By contrast, Polly Barton's Fifty Sounds is not fiction but a memoir about the translator's journey into learning Japanese. The fifty sounds which give the book its title are a grid-like system by which the syllables of the Japanese language are ordered. For Barton, onomatopoeic words like 'min-min' also come to stand for her own experiences. Min-min – the sound of cicadas – represents what Japanese sounded like during her early days there. Both authors revel in the way that language is an inextricable part of identity, and today they join scholar and translator Iona Macintyre for a discussion about how they've turned language into literature.  
This is a live event, with an author Q&A. The authors are taking part remotely; if buying a ticket to watch the event in-person, you'll watch them on a large screen in the venue. The interviewer is on stage in the venue. After the event, Eley Williams will be doing a virtual book signing via Zoom. Buy the book in our online Festival Bookshop and select 'Meet The Author' to book your place.
Categories: Biography/Memoir, Fiction, Language/Translation, Words/Reading
---