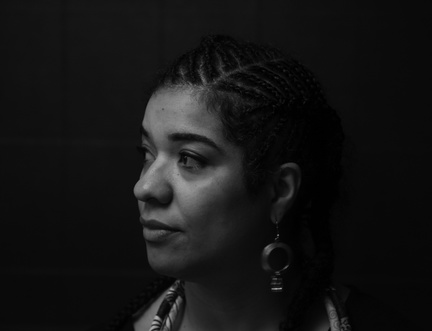 In 2018, we commissioned 51 authors from 25 countries to write essays exploring ideas about freedom for The Freedom Papers, a publication produced in partnership with Gutter Magazine. Read on for Olumide Popoola's essay, and visit guttermag.co.uk to purchase a copy of The Freedom Papers.
There is freedom that emanates when you speak your name, when you use your voice. It reaches beyond the outcome. The act of enunciation is a conjuring, a testament, a moment that signifies your existence while generating a future. I exist beyond the now because the word, written or spoken, echoes. Because, 'Your silence will not protect you.' (Audre Lorde, The Cancer Journals).
When researching my novel When We Speak of Nothing I spent a few days with an activist who took me around villages near Port Harcourt in Southern Nigeria. The young man was quoting the late writer and activist Ken Saro-Wiwa, both of Ogoni background. The whole day was framed with 'Like Ken said, like Ken said,' while the heat was beating down on us.
You can die but if you spoke, if you lamented about the conditions that cause you to die, your death is not voiceless.
I'm misquoting Ken Saro-Wiwa's words here. But in my memory, it rings like that. That day we drove by the location where four men were ambushed. History hammered on my temples, implications lodged on my skin, in my body. If not for that sweet crudeness, the sweetness of Bonny crude oil, I would never know that place.
We pass Giokoo, Gokana. We pass the junction that leads to the building from which four Ogoni chiefs were dragged in May 1994, killed by a mob. This mob might have been incited by the military in collaboration with an oil company but I will not know the exact circumstances, who was involved or the dimensions of their participation. This killing will lead to the detention and subsequent framing of 16 Ogoni activists of which nine will be hanged and from then on be called the Ogoni 9. And we will get to know one man, Ken Saro-Wiwa, the writer, more than we do when he is alive.
These small villages are of total insignificance to the whole wide world if not for the writer, and a ringing voice, dying while speaking, while saying, still, I have a voice. Death is not voiceless, it is not a mere formality, something that comes as an end to either speaking or silence. We are free to lament, and a lament is a commentary: I am not going to consent.
We pass Giokoo and I visit the Bomu flow station and manifold at K. Dere community, which leads to the famous Bomu Bonny pipeline. A flow station is where crude oil is separated from gasses, water and other impurities before being transported on through pipelines. Then the manifold was gated in and protected 24/7 by two armed military men with loaded machine guns. I have no fantasies about uniforms let alone men with guns but I cannot deny it, the guard is hot! He almost looks like John, one of the security guards that once worked for my dad. For the whole four weeks of summer holiday I was in love. 14-year-old smitten-ness and my dad probably terrified, especially when we posed for pictures with my baby sister and looked like newlyweds with baby.
When I see this guard, who looks like John but to be honest much better, I smile. Johnny, as I call him now, smiles back.
Later in the day, when we're driving back to the hotel, the activist laments why a recent oil spill in the US can get the attention all the atrocities in his communities, in the Niger Delta region, cannot get. I answer, 'because your life is not worth the same. In the scheme of things whether you die or not only matters if your death is ceremoniously spectacular and then it's too late.' He looks at me puzzled. The friendship that has developed between us tugs on both our insides, warming the sentiments we exchange, the care in which we work together. He is free to lament but like the falling tree in the forest, if no one is there to see it, did it really fall?
Later, I think of Johnny. What I have learned about the Niger Delta sums up on this day. It's the surprise in the activist's eyes when I say life is not worth the same. His puzzlement makes me cry every time I think of it but it also gives me hope. Because if I can feel this, if this has not simply slid down my skin but lodged somewhere where it matters, there is the beginning of knowing here. And knowledge is one form of freedom. And if I can muster it I might find a voice to comment and call it a lament.
I think of Johnny who is protecting a foreign company with his indigenous life. When the activist explained the workings of the manifold and what each pipe and rusty metal bit was, Johnny asked questions, looking at everything he was made to guard. He was learning as I was. Then losing interest, left us behind, shutting the gate. Inside, my guides and me and the shimmer the sun produces when it hits the spilled oil that is draping the machinery and the ground. Johnny outside of the gate, laughing in the cute way he does, while I take pictures of what Shell calls sabotage: a burst pipe protected by two young men who are doing their military service.
I never got to know Johnny's real name. I never got to know whether he was free to choose where he would do his service, and if it would have mattered to him, the freedom of choice.
But Johnny didn't seem to realize: if he'd fired his machine gun, to protect an oil company's retelling, fulfilling his job at securing the site, securing being an odd term for the shimmering oil, the leaking pipes, the slither that is still seeping into the ground and water, the gas that dances above the ground, but if nonetheless he did, he would be one of the first to die of the explosion.
Copyright © 2018, Olumide Popoola. All rights reserved.
Supported by the Scottish Government's Edinburgh Festivals Expo Fund through Creative Scotland.
More writing