More articles Tuesday 21 February 2012 1:00pm
2011 – The Official Review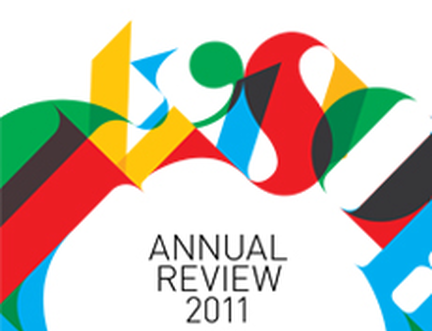 Our 2011 Annual Review has just been published and it's bursting with facts, figures, photographs and memories of all that we achieved last year.
It contains some fascinating insights in to what was involved in putting on the Festival, plus some astonishing statistics about what our visitors got up to while they were here.
For example, there was a thriving appetite for new fiction, with over 2,200 people opting to see a debut novelist at the Festival.
And over 2,000 people used our brand new mobile website, which we released on the first day of the Festival, to find out about events, authors and books.
Thirsty visitors to Charlotte Square Gardens took advantage of our free drinking water taps to the tune of 3,645 litres! While 400 journalists came to watch events and report on what we got up to.
And we continued to try our best to reduce the impact our activities have on the environment by, amongst other things, sending 9.7 tonnes of waste from our catering outlets to composting.
If you'd like to know more about what was involved in making last year's Festival happen, then have a leaf through the full Annual Review, which you can download from our website. It's a great way to look back over the fantastic achievements of last year, before looking forward to this year's programme - details of which will be announced here in June.
More articles