More articles Friday 21 April 2023 9:00am
2023 Baillie Gifford Schools Programme – full line-up announced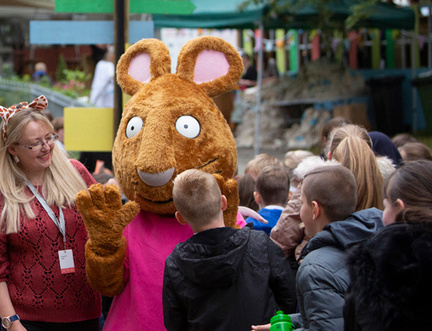 We are delighted to reveal details of our free programme of events for school pupils in 2023. Running from 21 to 29 August at the state-of-the-art studios inside Edinburgh College of Art, the Baillie Gifford Schools Programme offers a packed programme of free, in-person events created especially for school-age audiences, from P1 to S6. Selected events are also available to watch, live or on-demand, from the classroom. We are particularly thrilled to offer every child attending in-person a free book courtesy of event sponsors Baillie Gifford, which they can have signed by their favourite author after the events.  
The programme culminates in the return of our massively popular Baillie Gifford Schools Gala Day, an entertaining and educational day of events and workshops which this year celebrates the theme Happy Healthy You.  
Our Children & Schools Programme Director Rachel Fox says:
"We are so excited to welcome schools to this jam-packed programme of events for pupils, and so incredibly grateful to Baillie Gifford for their support to make tickets and books free. Thanks too to all the wonderful authors and illustrators joining us in person to deliver their fantastic events live and giving their time to signing books after every event. From the science of the brain to the building of the Forth Bridge; Creative writing inspiration to reflections on body image and social media usage; we hope there is something for everyone in this year's offer for schools and we can't wait to welcome everyone on to site!"
Primary Schools
Every weekday morning from 21 to 28 August school audiences can enjoy imaginative, inspiring events with leading writers and authors, with something available for all ages. Young adventure-seekers (P1–P3) can join co-author legends Sarah McIntyre and Philip Reeve as they introduce their story about a tiny mouse named Pedro, before he sets off into the world to meet the brave and daring Adventuremice! Award-winning author Barbara Henderson brings reading, drama, and engineering challenges to the stage with her riveting adventure Rivet Boy, telling the story of one boy's vital role in the building of Scotland's greatest man-made wonder, the Forth Rail Bridge (P4–P6). While bestselling author and two-time Olympian Matthew Syed, alongside inspirational writer and resilience guru Kathy Weeks, invite young audiences to find their voice, flex their social superpowers, and speak up with kindness and confidence in the event What Do YOU Think? (P4–P6). 
Secondary Schools
Secondary school pupils can also enjoy some brilliant events. Acclaimed author Alex Wheatle returns to the Festival to chat about the fifth instalment in his multi-award-winning Crongton series, each book featuring the story of a young person struggling to grow up and make their mark in the fictional South Crongton council estate (S1–S3). Nikesh Shukla wrestles with issues of humour and viral fame in his new book Stand Up (S1–S3), while author, illustrator, and performance poet Laura Dockrill delivers a superb masterclass on how pupils can use their imaginations to find their voice and become creative writing superstars (S3–S6).
Children's Laureate Joseph Coelho takes classes through ancient Greek myths and magic with his latest novel The Boy Lost in the Maze, before offering some tips for writing powerful stories (S3–S5). Multi-award-winning writer SF Said delves into the power of imagination as he shares his own storytelling journey (S1–S3), while YA writers William Hussey and Amara Sage chat cancel culture, body confidence, mental health, and first loves as they discuss how their experiences have shaped their novels (S3–S5). There's also the return of the audience favourite YA Book Prize (S3–S6), which gives pupils a chance to meet some of the incredible authors shortlisted for this year's award as they talk about and read from their books ahead of the big reveal.
Baillie Gifford Gala Day for Primary Schools
The celebrated Baillie Gifford Gala Day returns on Tuesday 29 August, with eight special events featuring leading names in children's writing, illustration, and TV set to captivate Primary School audiences. This year's programme celebrates the power of self-care under the theme Happy Healthy You, with themed events and exciting onsite activities taking place throughout the day. Pupils from P1–P7 will have the chance to meet and learn about the power of Therapets with Canine Concern Scotland; go on an inter-planetary trip to Planet Citizen with Ryan Van Winkle; enjoy some footballing fun with Spartans Community Football Academy; enjoy mindfulness-focussed crafts and activities with Edinburgh Libraries; and 'Dress to Express' to showcase their best selves by wearing something bright and colourful, whether it's a badge and bobble or a full eye-catching outfit.  
The nation's favourite NHS doctor, and Strictly Come Dancing star, Dr Ranj Singh arrives to challenge pupils to unleash the power of their brains, with his new book Brain Power unveiling the secrets of the how to keep your mind healthy and happy. Edinburgh-based poet Nadine Aisha Jassat shines a light on the effects of Alzheimer's, on both family and the patient, in her heart-warming book The Stories that Grandma Forgot, while bestselling author Phil Earle offers inspiration and reminds us that it's never too late to find the perfect book to get your imagination racing and capture your attention.
Space-heads can jump onboard for an awesome and exciting space adventure with authors-extraordinaire Katie and Kevin Tsang, exploring their new book Suzie and the Moonbugs, while prize-winning author Mike Nicholson introduces the intrepid Museum Mystery Squad – Nabster, Kennedy, and Laurie, along with hamster Colin – for an action-packed event with unexpected cliff-hangers and astonishing space facts. 
Celebrated writer Maisie Chan shares her love of Chinese myths, the Moon Festival, and the power of creativity in a special interactive event based on her Tiger Warrior series. Author and illustrator Nadia Shireen discusses the fabulous third instalment in her hilarious Grimwood series featuring fox siblings Nancy and Ted and a whole host of animal friends and foes. And children are invited to put on their helmets, grab their swords and step back in time to the Viking Age in an hilarious historic event with award-winning writer Chae Strathie who gives a kid's-eye view of what life as a Viking was really like.
Our Baillie Gifford Schools Programme runs from Monday 21 August – Tuesday 29 August. All events take place in person, with a selection also made available online, both live and on catch up. Support towards travel costs for schools attending in person continues to be available through the Baillie Gifford Transport Fund. All events are free for schools and are available to book online from Tuesday 25 April.   
You can find full details of the Baillie Gifford Schools Programme, along with guidance for registration and booking for teachers at learning.edbookfest.com or download the brochure here.
More articles