More articles Tuesday 15 August 2017 7:30am
A World First with Alexander McCall Smith at the Book Festival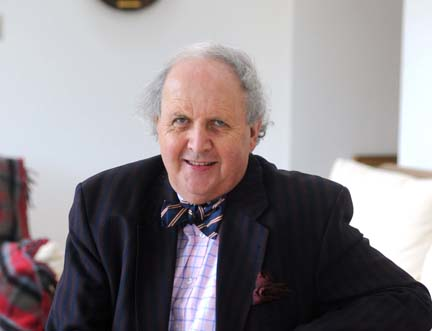 At today's Book Festival event, Alexander McCall Smith will offer a sneak preview of the musical based on his bestselling book, The No.1 Ladies' Detective Agency. It has been written in collaboration with platinum-selling composer and lyricist Graham Weir, who saw international success as a member of electro-pop pioneers Orchestral Manoeuvres in the Dark (OMD). After several years leading Edinburgh Napier University's music department, Graham has recently switched his role to focus more on teaching, research and composing. Graham regularly visits southern Africa for a range of music education projects.
Work on the musical is ongoing and this will be the first time that any of the songs have been heard in public. Alexander commented: "Graham and I have known each other for several years through the composition prize which I sponsor at Edinburgh Napier, but it is only recently that we've put our heads together to create something new. We're having a great time swapping song and story ideas, and the show is shaping up to be something special!"
As to when we will hear the full thing? Alexander commented that agents are talking to agents, companies to companies on both sides of the Atlantic. At the moment it remains a work in progress but they look forward to sharing more information in the near future.
The No.1 Ladies' Detective Agency by Alexander McCall Smith was first written as a short story for friends. Alexander so enjoyed his conversation with the characters that he went on to develop it into a full-length novel–published in 1998 by Edinburgh publisher Polygon–and then two, and then three… the 18th novel in the series, The House of Unexpected Sisters, is published this September by Little,Brown. The series has previously been adapted for BBC Radio drama by Gaynor Macfarlane and by Anthony Minghella for BBC (in conjunction with HBO) screen production.
Alexander McCall Smith is one of the world's most prolific and best-loved authors. For many years he was a professor of Medical Law and worked in universities in the UK and abroad before turning his hand to writing fiction. He has written and contributed to more than 100 books including specialist academic titles, short story collections, and a number of immensely popular children's books. Following publication of The No.1 Ladies' Detective Agency books he has devoted his time to writing and has seen his various series translated into forty-six languages and become bestsellers throughout the world. These include the popular 44 Scotland Street novels, first published as a serial novel in the Scotsman newspaper and now the longest-running serial novel in the world; the Isabel Dalhousie novels, and the von Igelfeld series.
Earlier this year he received The National Arts Club (of America) Medal of Honor for Achievement in Literature.
More articles