More articles Thursday 15 December 2016 11:00am
A Year in Booked!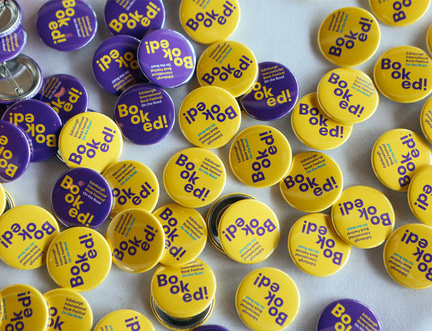 In our drive to inspire a love of books, reading and creativity as widely as possible, we have spent 2016 travelling the length and breadth of Scotland with our Booked! programme. Working with local partners including councils, libraries, arts venues and organisations and many others, we have toured from Galashiels to Aberdeen and from Edinburgh to the Hebrides, taking authors, illustrators, musicians and artists to vastly differing communities around the country. Through school and family sessions, residency programmes, full-on Festival weekends and special one-off events we've managed to bring the buzz of the Book Festival to thousands of people, many of whom have never previously attended our Festival in Charlotte Square Gardens.
In 2016 we:
Travelled to 10 different towns and cities, as well as popping up in venues across Edinburgh.
Engaged with almost 10,000 people of all ages.
Worked with over 100 authors and artists.
Held events in 2 prisons – HMP Edinburgh and HMP Greenock – reaching 70 inmates.
Hosted sessions for 32 pupils with Additional Support Needs.
Were joined by 2 Gaelic classes for events entirely in the Gaelic language.
Feedback from audiences, authors and partners reflects an excitement and passion for travelling work which can energise communities, spread interest in literature, activate arts spaces and offer new opportunities for writers and makers.
At the centre of our summer activities were three Booked! Festivals, two-day mini events which took place in Galashiels, Greenock and Aberdeen whilst the Festival in Charlotte Square Gardens continued. We were able to draw on the authors attending Edinburgh to create quality programmes in tandem with our local partners in each area. This brought audiences face-to-face with authors of international significance as well as offering writers and illustrators the opportunity to expand their experience of the Book Festival and our work. The video below takes you on tour with us to the three towns, offering insights from authors, audiences and partners alike on what Booked! can achieve.
You can find out more about Booked! and the range of work we are delivering through the programme on our website at www.edbookfest.co.uk/about-us/booked, and we will soon be launching a blog which will tell the story of Booked! more fully throughout the year. You can also watch a number of videos from past events on our YouTube channel or see photo galleries on our Flickr page.
Booked! continues in 2017 with the first stages of a long-term tour of the Scottish New Towns, arriving in Cumbernauld in the spring. In order for us to shape the right festival for the town, we're looking for input from local residents and workers both past and present. If you've ever lived or worked in Cumbernauld, we'd appreciate your time to complete our survey, which you can access here: http://survey.constantcontact.com/survey/a07edif0tkbivxww38i/start. Every completed survey will be entered in a draw to win one of two £50 bookshop vouchers. We'll announce details of the programme in the New Year.
---
Booked! is the Edinburgh International Book Festival on the road around Scotland throughout the year, supported by players of People's Postcode Lottery.
More articles