More articles Saturday 25 August 2018 4:30pm
Akala: 'Black on Black Violence' is being used as an ideological weapon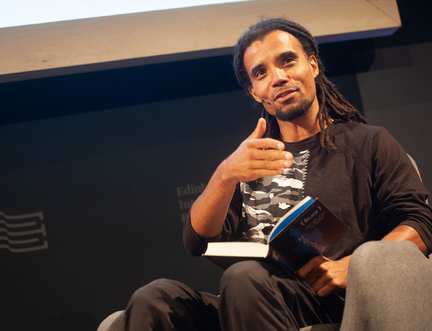 London's Black underclass is being used as both an ideological and literal weapon against the other 99% of Black people, according to Akala. The MOBO award-winning hip hop artist, poet and political commentator was speaking yesterday about his book, Natives: Race and Class in the Ruins of Empire, at a sold-out event at the Edinburgh International Book Festival.
"It's routinely argued that what we have is this thing called 'Black on Black Violence', to the point that even Black Londoners believe it," he explained. "There are 1.71 million Black people in London and, in a terrible year, maybe 50 of them will kill somebody. Is that a higher level than the general population? Absolutely. Is there a problem? Absolutely. Is the problem caused by excessive melanin syndrome? No.
"When you look at this violence, boys aged 15-25 who have been expelled from school, come from the poorest families, from the poorest areas, often with a history of abuse in the family—they're killing people. What's happening is that a national problem – and has been a national problem for centuries really, with gangs in Glasgow that are 200 years old – is being used, in London, to give the impression that these people are foreigners and they brought this problem with them from elsewhere."
One way this is done by the media always comparing London to New York. "There's a reason they're not comparing it to Greater Manchester, which actually had the highest murder rate in Britain last year, or Glasgow," he said. "There's this sense that London is this foreign city.
"Now I have a lot of skin in the game in this. The two people I love most in the world are teenage Black boys," he said. "Earlier this year, my best friend's son… they stabbed him 10 times, for no reason. On paper, he's the archetypal middle class kid: his parents are together, they live in the suburbs, he's on his way to uni. Where's he fitting into the narrative? Black boys like him are not allowed to be victims?
"What's happening is that the Black underclass, essentially, is being used as both an ideological and literal weapon against the other 99% of Black people who are not going to kill anyone."
Akala accepted that, if Police in London were going to concentrate "stop and search" on "young boys and men aged between 15 and 25 in higher-crime gang neighbourhoods, who have been expelled from school and who already have got criminal records", few people could argue with their logic. But when the police say they're just going to stop and search random Black guys – including Oscar-nominated Skins actor Daniel Kaluuya – "it's absurd."
Blackness, in London and Britain, is a class-signifier, Akala insisted. "If you just say Black, the assumption is lower class, when there are actually quite a lot of Black folk doing quite well—something you'd think we'd be celebrating."
More articles