More articles Thursday 17 July 2014 10:30am
Alex Salmond and Gordon Brown to discuss the past, present and future of Scotland at the Book Festival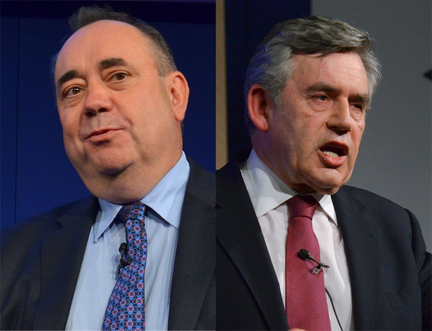 This year's Edinburgh International Book Festival programme is set to place the Scottish independence debate in a broader context through a series of dialogues in which leading voices, along with Book Festival audiences, share facts, opinions, and hopes about the nation's future. Today, two major names have been added to the conversation with the announcement of new events featuring Scotland's First Minister Alex Salmond and former Prime Minister Gordon Brown.
On Monday 11 August Alex Salmond will be in conversation with Sir Tom Devine, who retires as Professor of History at the University of Edinburgh this month and has written books including The Scottish Nation and Scotland's Empire. Examining Scotland's past, present and future the pair will discuss the nation's long journey towards the independence referendum and what might happen after September.
On Friday 15 August Gordon Brown will talk to Alistair Moffat, the award-winning writer, journalist and festival director whose books include Bannockburn and The Faded Map: Lost Kingdoms of Scotland. Looking at the context and history of the Union, Brown will explore the ideas contained in his new book My Scotland, Our Britain: A Future Worth Sharing.
Nick Barley, Director of the Edinburgh International Book Festival, said 'The two events announced today offer our audience an exciting opportunity to get to the very heart of the independence debate. Two of Scotland's leading historians and writers are joined by politicians who are deeply committed to contrasting visions of Scotland's future. Their dialogues will examine Scotland's constitutional question and the nation's future relationship with the rest of the United Kingdom, from an informed, historical perspective.'
Tickets to both events are on sale now and can be bought online via the Book Festival website, by calling the Box Office on 0845 373 5888, or by visiting the Box Office in person at The Hub on Castlehill (open Monday to Saturday 10.00am to 5.00pm).
Buy tickets so see Alex Salmond in conversation with Tom Devine.
Buy tickets to see Gordon Brown in conversation with Alistair Moffat.
More articles