More articles Friday 17 August 2012 9:30pm
Animated discussion about the politics of literature launches Edinburgh World Writers' Conference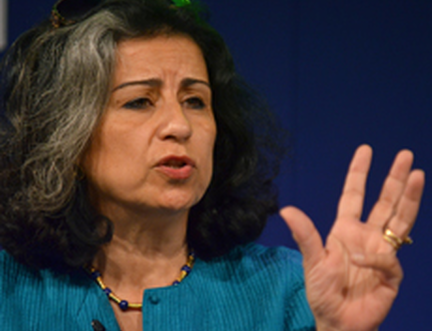 Fifty years after Edinburgh hosted a legendary conference, credited as being the world's first literature festival, the Edinburgh World Writers' Conference got underway.
In the first of five conference events taking place in Edinburgh this August, Egyptian novelist and political commentator Ahdaf Soueif delivered the keynote speech addressing the question 'Should Literature be Political?'.
During the debate, which was chaired by Turkish author Elif Shafak, Soueif argued that 'The question becomes critical in times of crisis' going on to suggest that 'In Egypt, in the decade of slow, simmering discontent before the revolution, novelists produced texts of critique, of dystopia, of nightmare. Now, we all seem to have given up - for the moment - on fiction.'
Soueif argued that, in the wake of the Arab Spring, writing novels, at least in Egypt, has become redundant. However, she expressed hope that 'Fiction will come again' continuing 'maybe I'll tell the story of Boulac sands, not one kilometer from my home, where the police killed Amre el-Bunni last week and a community is being terrorized out of its homes to make way for a luxury development, or maybe I'll tell the story of Samira Ibrahim who put a stop to the Military's virginity tests, or Ahmad Harara whom they shot in one eye on 28 January and in the other in December, or Khaled Said's mother who's adopted all the young revolutionaries in lieu of her murdered son.'
The Edinburgh events of this worldwide conference, which is an ambitious programming partnership between the Edinburgh International Book Festival and the British Council, involve 50 delegates from 25 different countries discussing and debating the role of fiction in society with a public audience.
Following the keynote speech the discussion was opened up to the floor where several of the writers in the audience joined in the discussion. Ewan Morrison argued that, these days, political consequences are seldom achieved by writing, asking 'Has the superabundance of books on Wall Street affected the financial system?'. Denise Mina claimed that the production and consumption of literature is necessarily predicated by the context: 'Crime fiction is a privilege. If you are in a refugee camp you don't want mysteries to be solved. The mystery is 'why am I here?' and John Burnside claimed that, rather than questioning whether literature should be political, the real issue is 'Should literature be dissident?', stating that the author has a duty to rally against the status quo.
Today's debate was the first of five Edinburgh World Writers' Conference sessions being held at the 2012 Edinburgh International Book Festival. All five events are being live-streamed on the Edinburgh World Writers' Conference website.
More articles