More articles Thursday 27 January 2022 1:00pm
New Book Festival event at The Traverse Theatre – book now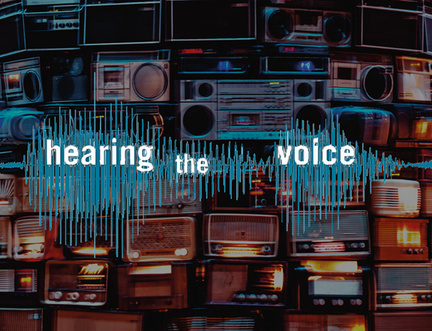 Seven years after the Edinburgh International Book Festival worked on a unique collaboration with Hearing the Voice – a study of voice-hearing, based at Durham University – a stage play drawn from interviews with voice-hearers and novelists gets its first public outing at the Traverse Theatre on Friday 4 March at 7.30pm. Tickets are on sale now from The Traverse Theatre's Box Office, priced £12 / £10 concessions.
Edinburgh International Book Festival presents
Dialogues from Babel
Directed by Mary Robson, Text by Philip Howard
I think the sounds are coming from me
From my heart
My heart's a radio
Based on the words spoken by voice-hearers, conversations are woven together, unfolding to illuminate the experience of hearing a voice only you can hear, even when there is no one speaking. Set to an accompanying soundtrack, crafted specially to heighten the atmosphere, this performance will transport you to a different place, offering an alternative way of looking at and relating to the world around you.
Seven professional actors have worked alongside director Mary Robson, Creative Facilitator in the Institute for Medical Humanities at Durham University, playwright Philip Howard, former artistic director of the Traverse, and Fife-based sound designer R J McConnell to create a revealing and fascinating theatrical experience.
Dialogues from Babel is a 90 min rehearsed reading followed by a 30 min Q&A with the actors and creative team. There will be a short break before the Q&A.
The capacity of the venue is capped to allow space between groups in the auditorium. Tickets can be purchased through the Box Office at the Traverse Theatre on 0131 228 1404 or through traverse.co.uk.

A note from the Director, Mary Robson:
The term 'Hearing voices' refers to the experience of hearing a voice that no one else can hear, which is very real to the person, does not feel within their control, and is not shared by anyone else. It can include children with imaginary friends, the recently bereaved hearing the voices of their loved ones and novelists having conversations with their characters.
The Hearing the Voice project investigated why and how people hear voices, shedding light on the relationship between hearing voices and everyday processes of sensory perception, memory, language and creativity. It explored why some voices (and not others) are experienced as distressing, how they can change across the life course, and the ways in which voices can act as important social, cultural and political forces.
The script of Dialogues from Babel has been developed with voice-hearers and writers; it is a series of dialogues that aim to be enlightening and thought-provoking. We hope audiences will leave with an understanding of what voice hearers contribute to the world.
---
This production has been created in a partnership between Edinburgh International Book Festival and Hearing the Voice. Hearing the Voice is a Wellcome funded project, based at Durham University.
More articles