More articles Tuesday 28 May 2019 5:15pm
Announcing Northern Lights: A Collaboration with Bradford Literature Festival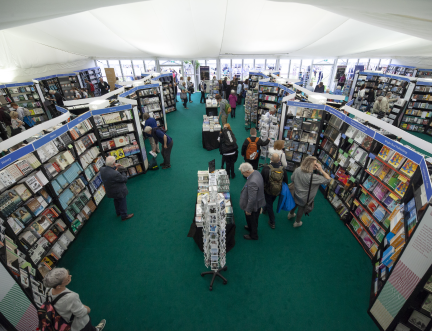 Today Edinburgh International Book Festival announces our new collaboration with Bradford Literature Festival, designed to unite publishers from Scotland and the North of England. Northern Lights is the first major industry-focused gathering bringing together publishers from both sides of the border, and it will offer publishing professionals the chance to discuss key issues in a series of panel discussions and workshops where they can share their expertise in developing inclusivity and diversifying readership.
Supported by Creative Scotland and Arts Council England, Northern Lights focuses on developing new relationships within the industry in the North of the United Kingdom. The project enhances the financial sustainability of the Northern publishers by developing professional skills and increasing national and international exposure.
The Book Festival's work has meant that the impact on the publishing industry at home and abroad has grown in recent years, with three Publishing Salon events for industry guests in 2018. Attendees from Scotland, the UK and further afield took part in debates and enjoyed insight from some of the world's top publishers and literary agents. The Northern Lights project builds on this work and working in collaboration with Bradford Literature Festival aims to boost creativity and inspire collaboration amongst Northern and Scottish publishers.
"Northern Lights will enable us to develop the cross-border ties between publishers, agents and authors, and inspire not only new projects, but perhaps entirely new models for the industry in the North," said Syima Aslam, Director of Bradford Literature Festival.
Northern Lights delivers two days of events at Bradford Literature Festival on Friday 28 and Saturday 29 June at Kala Sangam in Bradford, as part of the Festival's Creative Sector Industry Day. You can book tickets and find full details of the days' programmes here. The events at Edinburgh International Book Festival events will take place on Saturday 24 and Sunday 25 August at the Edinburgh International Conference Centre and details will be announced in July. If you wish to register you interest in the Edinburgh events now you can do so by emailing northernlights@edbookfest.co.uk. The events, with content from both sides of the border, are open to industry professionals at any stage of their careers and are designed attract booksellers, literary agents, publishers and authors.
Through the support of Creative Scotland and Arts Council England a small fund has been established to enable delegates and participants to travel to and attend both events. Prospective delegates are invited to apply to either Bradford Literature Festival northernlights@bradfordlitfest.co.uk or to Edinburgh through northernlights@edbookfest.co.uk.
More articles