More articles Wednesday 10 June 2015 11:59am
Around the world in 18 days with the 2015 Edinburgh International Book Festival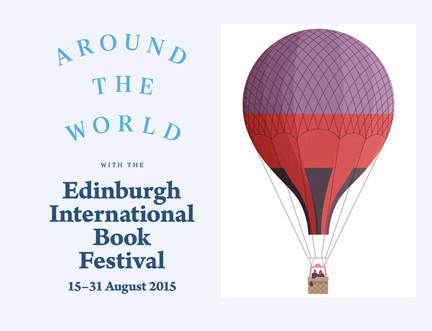 Today the Edinburgh International Book Festival revealed the line-up for the 2015 programme which promises to take Festival-goers on a trans-continental voyage of discovery.
In its most international programme to date, the Festival will welcome voices from over 55 countries writing in a multitude of languages, many of whom are translated into English for the first time. Together, writers and audiences will explore how stories shape our lives, our opinions and our identities.
Book Festival Director Nick Barley said 'Scotland has always been an outward-looking nation and this year the Book Festival is more international than ever before. Charlotte Square Gardens will reflect the idea of the Global Village as we welcome authors from across the planet. Whether they are from Nigeria or North Korea; Colombia or China, these are writers whose stories shed light not only on the big changes in world power, but on the shifting nature of local cultures– changes that are also taking place in Scotland.'
Some literary megastars in their own countries will make the trip to Edinburgh including Spain's Jaume Cabré whose Confessions has sold over 1 million copies, Germany's Jenny Erpenbeck who has just won the 2015 Independent Foreign Fiction Prize, the multi-award winning Helle Helle from Denmark, South Korea's Han Kang, Alain Mabanckou from Congo and Salla Simukka, an exceptional new Young Adult author from Finland.
Marilynne Robinson, regarded as one of America's greatest living writers, makes her first visit to Charlotte Square Gardens, as do French 'rockstar' mathematician Cédric Villani, renowned playwright David Hare, street artist Stik and one of the most formidable civil rights activists of the 20th century, the Reverend Jesse Jackson. Palestinian lawyer Raja Shehadeh launches Shifting Sands, a book of powerful and engaging essays on the Middle East which grew out of a series of discussions curated by Shehadeh at the Festival last year.
Philippa Gregory will launch her brand new novel on Henry VIII's last queen, Patrick Ness reveals his much-anticipated new novel, Val McDermid discusses her new crime novel with the First Minister Nicola Sturgeon while Pat Barker, Arne Dahl, Aleksandar Hemon, Tom Holland, John Banville and Andrew Miller also launch exciting new books. Elsewhere in the programme Louis de Bernières, Joanne Harris and Etgar Keret are joined by David Mitchell, Irvine Welsh, Emily Woof, Owen Sheers, Amit Chaudhuri, previous Man Booker Prize winners Ben Okri and Howard Jacobson, Pulitzer Prize winner Jane Smiley and historians Antony Beevor and Ferdinand Mount.
Telling their own fascinatingly personal stories are North Korean exile Hyeonseo Lee, comedian Paul Merton, Magnus MacFarlane-Barrow who founded Mary's Meals, Ronnie Browne from The Corries, Chinese lawyer and dissident Chen Guangcheng, former member of The Communards Reverend Richard Coles and historian Antonia Fraser. Channel 4 Economics Editor Paul Mason discusses capitalism and a route to a fairer society with former First Minster Alex Salmond; Caroline Lucas, the Green Party's solitary MP, explores the Westminster system; former Prime Minister Gordon Brown examines the future of Scotland and BBC Political Editor Nick Robinson takes us through his 2015 Election Diaries.
As well as introducing brand new writing from across the globe, the special Trading Stories strand, supported by the Scottish Government's Edinburgh Festivals Expo Fund, will take a closer look at how stories travel, bringing together writers and translators for an exploration of language and identity, and the many international influences that have inspired and defined Scottish writing. Marina Warner asks how fairy stories shed light on human understanding as they travel from continent to continent while translator Daniel Hahn examines the creative, linguistic and political challenges required to take stories across borders. Many of this year's popular Reading Workshops will focus on translated classics such as Madame Bovary and Anna Karenina.
Cabinet Secretary for Culture, Europe and External Affairs Fiona Hyslop said 'As well as another fantastic line up of top writers, this year the Edinburgh International Book Festival is highlighting one of today's most important subjects, internationalism. For centuries, great writers have opened our minds to novel worlds and lands. Through understanding others we embrace new ideas and expand our imagination, both are vital for a country looking to succeed on the world stage. Scots have always embraced internationalism. Our intangible cultural heritage of storytelling, poetry and music transcends boundaries and we are proud to support Trading Stories, a key strand of the international theme, through the Edinburgh Festivals Expo Fund.'
Five Guest Selectors have curated strands in this year's programme. Internationally renowned visual artist and Mexico's single most important cultural figure, Gabriel Orozco, offers an Insider's Guide to Mexico and speaks to seven formidable Mexican novelists, poets and writers in a sparkling reflection of their home literary scene. Lennie Goodings, publisher of the Virago imprint for over 30 years, presents the theme of The Female Gaze, offering a challenge to the masculine view of the world which still pervades Britain's culture. With guests including Jane Gardam, Sarah Waters and Eileen Atkins, her events discuss ageing, extremism and lost classics.
Edinburgh's own Ian Rankin has chosen to chat to some of his favourite writers and musicians, including Hollywood A-Lister Alan Cumming, musicians Viv Albertine, Edwyn Collins and Stuart David, co-founder of Belle and Sebastian.
Charlotte Higgins, the Guardian's chief culture writer, looks at the complex interaction between globalisation and xenophobia and speaks to leading classicists alongside specialists in contemporary affairs.
Finally across both the adult and children's programmes Gill Arbuthnott, author of novels for young adults and picture books for pre-schoolers, highlights the need for us all to be science literate with guests including French physicist Christophe Galfard and Professor Robert Winston. The versatility and power of illustration will be explored by Debi Gliori, the Book Festival's 2015 Illustrator in Residence.
The Book Festival's First Book Award returns to showcase the wealth of debut fiction in the programme. Now in its sixth year, this year's award features 55 debut novelists and short story writers including renowned international authors and exceptional home-grown talent. The winner of the First Book Award is voted for by readers and visitors to the Book Festival and announced in October.
This year's programme will feature a number of performances. In a tribute to Seamus Heaney, a full length dramatic reading of his translation of Beowulf takes place in a co-production with the Tron Theatre Company. The renowned Shakespearean and Wolf Hall actor Mark Rylance reads from Paul Kingsnorth's novel The Wake and in a major collaboration with La Maison de la Poésie de Montreal and the Scottish Poetry Library, three leading writers from the First Nation Innu people of Northern Canada present a performance of their poems, stories and music in French and Innu-aimun. The Babble On series of Spoken Word events includes appearances from Kate Tempest and George the Poet.
Terry Waite will deliver The Frederick Hood Memorial Lecture, Matt Haig will give The Siobhan Dowd Trust Memorial Lecture and Ali Smith presents The PEN / H G Wells Lecture.
The Baillie Gifford Children's Programme reflects the cultural diversity now found within Scotland. China's Haji Noor Deen will turn words into art through calligraphy. Iranian illustrator Anahita Teymorian will talk about translating picture books and French graphic novelist Barroux will launch his new wordless picture book. Bruce Pascoe, Dub Leffler and Brenton McKenna jet in from Australia.
Julian Clary and Danny Wallace both present their first children's books, Kristina Stephenson and Derek Landy each launch their new series, and Cressida Cowell presents the final book in her How to Train your Dragon series.
The full programme for the 2015 Book Festival, which runs from 15-31 August, can be found at www.edbookfest.co.uk. Tickets go on sale at 8.30am on Tuesday 23 June.
More articles