More articles Monday 20 April 2015 12:00pm
Around the World in Stories with the Baillie Gifford Schools Programme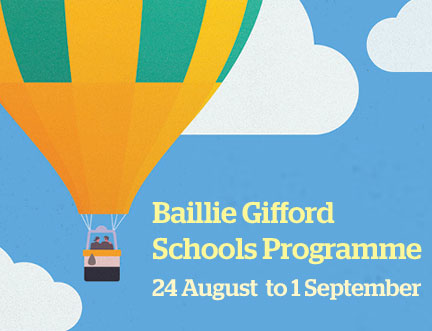 The 2015 Baillie Gifford Schools Programme has just been revealed and the best and brightest literary stars for young people are lined-up to entertain and inform the nation's school children.
This year, the focus is firmly on storytelling with an international twist, with the programme exploring the many ways in which stories can be told, re-told, re-invented, adapted and translated across languages, cultures and time.
Bringing stories from other lands are Finnish novelist Salla Simukka with her latest thriller for teens, Leonie Norrington describing life in Australia's glorious Outback, and Mio Shapley performing musical tales from Japan.
There will be workshops on the art of translation and the craft of adapting books for stage, while some of the more unusual ways of telling stories will be explored in events by performance poet Luke Wright, graphic novel creators Metaphrog and hip-hop artist Dave Hook.
Alongside many well-established names from the world of children's literature, including Patrick Ness, Darren Shan, Sophie McKenzie and David Almond, will be stunning new writers Non Pratt, Tim Hall, Lisa Williamson and Emily MacKenzie.
For teachers and education professionals our Continuing Professional Development events offer the opportunity to learn something new. This year's CPD programme looks at the benefits of bilingualism, gets creative with translation, considers innovative ways to encourage reluctant readers and delves into the empowering world of picture books and comics.
Once again, thanks to Baillie Gifford, every pupil who attends an event in the Schools Programme will receive a book voucher, this year worth £3, to put towards the cost of a book in the bookshops in Charlotte Square Gardens.
Booking for the Baillie Gifford Schools Programme opens on Thursday 30 April. To see the full line-up of events and find out how to book, download the brochure, see our website, or request a printed copy by emailing mailinglist@edbookfest.co.uk.
More articles